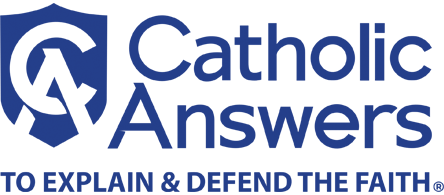 "Do you know you're saved so that if you were to die right now, heaven would be absolutely certain for you?" This "all-important" question is designed to bait Catholics into an ambush. When I speak at conferences around the country, I often ask the attendees how many have been asked that question by a Fundamentalist or Evangelical: Usually, over half of my Catholic audience raises a hand.
If the Catholic responds as any good Catholic would by declaring he cannot—apart from a special revelation from God—have metaphysical (or absolute) certainty concerning his salvation, the Protestant then springs his biblical trap, 1 John 5:13: "I write this to you who believe in the name of the Son of God, that you may know that you have eternal life." Next he tells the Catholic that if he will but "confess with [his] lips that Jesus is Lord and believe in [his] heart that God raised him from the dead, [he] will be saved" (Rom 10:9-10). All we need do is confess Jesus as Lord, and salvation is assured. We can know it with certainty. Salvation is guaranteed regardless of anything we may do or not do in the future. What a deal!
The Catholic Two-Step Response
Step One: The Greek word for knowledge (Gk. eideitei) in 1 John 5:13 does not necessarily equate to absolute certainty. We use the verb know the same way in English. For example, I may say I know I am going to get an A on my Greek exam tomorrow. Does that mean I have metaphysical certainty of this? Not at all. What I mean and what the verb know can be used to indicate is that I have confidence that I will get an A on my test tomorrow because I have studied the material thoroughly and I know it well.
The context of 1 John makes it abundantly clear that this is how "knowledge" is being used in 1 John 5:13. In the next two verses, John draws a parallel between the certainty we have concerning our salvation and the certainty we have when we petition God in prayer: "And this is the confidence which we have in him, that if we ask anything according to his will he hears us. And if we know that he hears us in whatever we ask, we know that we have obtained the requests made of him."
Does this mean we have absolute certainty we will receive what we ask for when we make requests of God in prayer? Obviously not! John says we can have "confidence," but not absolute certainty. We cannot always know with strict certainty that our request is truly "according to his will." Moreover, Psalm 66:18 informs us: "If I had cherished iniquity in my heart, the Lord would not have listened." And 1 John 3:22 says, ". . . we receive from him whatever we ask, because we keep his commandments and do what pleases him." Can we always be certain we have not "cherished iniquity" in our hearts, or that we have not done anything that may have displeased the Lord?
Step Two: Our salvation is contingent upon many things according to the Bible. This indicates the certainty of our salvation is not absolute. Just a few examples include 1 John 1:8-9: "If we say we have no sin, we deceive ourselves, and the truth is not in us. If we confess our sins, he is faithful and just, and will forgive our sins and cleanse us from all unrighteousness." The text says we will be forgiven if. Thus, the sobering truth is: Unconfessed sin will not be forgiven. And the Bible is very clear that no sin can enter into heaven (see Hb 1:13; Rv 21:8-9, 27).
I have heard it said that if is "the biggest little word" in the English dictionary. Well, Scripture has lots of ifs. John, for example, also says: "Let what you heard from the beginning abide in you. If what you heard from the beginning abides in you, then you will abide in the Son and in the Father. And this is what he has promised us, eternal life" (1 Jn 2:24-25).
This passage is plain. Our eternal life is contingent upon our choosing to abide in God. Can we choose the opposite? Absolutely! John goes on to explain: "No one who abides in him sins; no one who sins has either seen him or known him. Little children, let no one deceive you. He who does right is righteous, as he is righteous. He who commits sin is of the devil . . . No one born of God commits sin . . ." (1 Jn 3:6-9).
On the surface, this text seems odd. We have already heard John say that everyone who is born of God does sin. Indeed, "all" sin. Yet, here he says those who are born of God do not sin. Is John contradicting himself? No: John makes a distinction between mortal and venial sins in this same epistle. In 1 John 5:16-17, John gives us remarkably plain definitions of both mortal and venial sins. "If any one sees his brother committing what is not a mortal sin, he will ask, and God will give him life for those whose sin is not mortal. There is sin which is mortal . . . All wrongdoing is sin, but there is sin which is not mortal."
In this context, we can reasonably conclude the one who is born of God does not commit mortal sin. If he were to do so, he would be "cut off" from the body of Christ and would need to be restored via confession to a state of grace (Cf. Gal 5:4, Eph 3:3-6, Jn 20:21-23). Three more texts about the contingency of salvation bolster the argument:
1 Corinthians 15:1-2: Now I would remind you, brethren, in what terms I preached to you the gospel, which you received, in which you stand, by which you are saved, if you hold it fast—unless you believed in vain. (See also Matthew 24:44-51; Luke 12:41-46; Romans 11:22; Hebrews 3:6;14; Revelation 2:10; 25-26; 3:1-5; 22:18-19, for many more "ifs" and contingency clauses.)
Colossians 1:21-23: And you, who once were estranged and hostile in mind, doing evil deeds, he has now reconciled in his body of flesh by his death, in order to present you holy and blameless and irreproachable before him, provided that you continue in the faith, stable and steadfast, not shifting from the hope of the gospel which you heard . . .
2 Peter 2:20-22: For if, after they have escaped the defilements of the world through the knowledge of our Lord and Savior Jesus Christ, they are again entangled in them and overpowered, the last state has become worse for them than the first . . . It has happened to them according to the true proverb, the dog turns back to his own vomit, and the sow is washed only to wallow in the mire.
The Evangelical Counter
In response, the Protestant apologist will sometimes say these texts do not indicate one who was truly saved could actually lose his salvation. The one who, in the end, did not continue with the Lord, never really knew the Lord in the first place. He only knew about the Lord. But this line of reasoning does not hold up under scrutiny. In 2 Peter 2, the Greek word used for knowledge is epignosei. This word means "knowledge," but it denotes an experiential knowledge. This text is very clear that the persons referred to have "escaped the pollutions of the world" through this "experiential knowledge" of Jesus. Only a personal relationship with Jesus can have this effect. Merely knowing about Jesus cannot do that. Moreover, the image Peter uses in verse 22 is of the sow having been washed in water. Water is the symbol Peter uses for baptism in 1 Peter 3:20-21. The connection seems obvious. The sow—female pig—which had been cleansed represents a person cleansed from sin; the sow returning to the mud represents the Christian returning to sin.
When seen in the fuller context of 2 Peter, this point becomes unmistakable. In 2 Peter 1:2-4, Peter begins with a description of Christians:
May grace and peace be multiplied to you in the knowledge [epignosei, experiential knowledge once again] of God and of Jesus our Lord. His divine power has granted to us all things that pertain to life and godliness, through the knowledge [epignosei] of him who called us to his own glory and excellence, by which he has granted to us his precious and very great promises, that through these you may escape from the corruption that is in the world because of passion, and become partakers of the divine nature.
One cannot help but see the parallels between these two texts. The same Greek words, epignosei, apophugentes, "having escaped from," and a form of kosmos or "world," are used to describe what Christians have been freed from, as well as to describe the one who then goes back to his old ways and ends up worse than he was before he ever knew Jesus.
These are just a few texts among the scores we could examine, but the bottom line is Scripture is crystal-clear on this point: Once saved does not mean always saved. In Matthew 6:15, Jesus tells us that "if you do not forgive men their trespasses, neither will your Father forgive your trespasses." It does not matter how "born again" one may be or how many experiences one has had, if he does not forgive others, he will not be forgiven, according to the text. And remember—as we have seen—no sin can enter into heaven (cf. Hb 1:13, Rv 21:27). Further, the Bible says we can "fall from grace" (Gal 5:1-5, Heb 12:14-16), be "cut off" from the vine from which we receive divine life (Jn 15:1-6, Rom 11:18-22), have our names removed from the Lamb's book of life (Rv 22:19), and it assures us over and over again that if we commit certain sins and we do not repent of them, we will not go to heaven (cf. 1 Cor 6:9-11, Gal 5:19, Eph 5:3-5, Rv 21:6-8).
Not Once, But Many Times
But what about Romans 10:9-10? Doesn't the Bible say if you believe in your heart and confess Jesus with your mouth you shall be saved? Yes it does, but that doesn't mean we need only confess faith in Christ one time. The Bible uses the same Greek word for confess, homologeitai, in multiple places and emphasizes we must continue to confess Christ if we are going to be finally saved. For example, in Matthew 10:22, 32 Jesus says, "You will be hated by all because of my name, but it is the one who has endured to the end who will be saved.. . . Therefore everyone who confesses me before men, I will also confess him before my father who is in heaven. . . ." (NAB). The context here is one of holding fast to our confession until death (see also 2 Tm 2:12 and Heb 4:14; 10:23-26).
Finally, confessing Christ is done not only in word, but also in deed: "If any one does not provide for his relatives, and especially for his own family, he has disowned the faith and is worse than an unbeliever" (1 Tm 5:8).
Notice, the man who neglects his family for selfish pursuits denies Christ in his actions. And as we have seen, the Bible records in many places extensive lists of sins whereby we can deny Christ, such as 1 Corinthians 6:9-10: "Do you not know that the unrighteous will not inherit the kingdom of God? Do not be deceived; neither the immoral, nor idolaters, nor adulterers, nor sexual perverts, nor thieves, nor the greedy, nor drunkards, nor revilers, nor robbers will inherit the kingdom of God." Scripture never says the saved can do these things and still go to heaven.