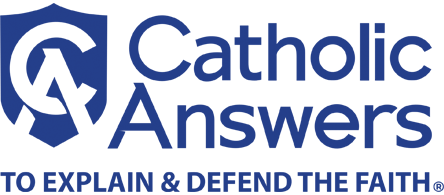 Last Modified: July 20, 2021
This website is operated by Catholic Answers, Inc.
Catholic Answers can be reached at:
Catholic Answers, Inc.
PO Box 199000
San Diego, CA 92159
Phone: 619-387-7200
Our goal is to be the most trusted and accessible source for sharing, explaining, and defending the Catholic faith through as many media outlets as possible: from personal contact to the most innovative means of mass communication.
We want these services to be an encouragement to you in your Catholic faith. All our sites are designed to provide information and materials in the pursuit of a deeper understanding of Catholic teaching – we ask that you use it only as intended. Any other use is prohibited. The information and materials presented on or through the Website (as defined below) is made available solely for general information purposes. We do not warrant the accuracy, completeness, or usefulness of this information. Any reliance you place on such information is strictly at your own risk. We disclaim all liability and responsibility arising from any reliance placed on such materials by you or any other visitor to the Websites, or by anyone who may be informed of any of its contents. If you have any questions, feel free to contact us.
These terms of service are entered into by and between you ("user") and Catholic Answers, Inc. The following Terms of Service, together with any documents they expressly incorporate by reference, govern your access to and use of www.catholic.com, including any content, functionality, and services offered on or through our website, www.catholic.com, other media outlets, including social media outlets, and any other online services (collectively referred to herein as the "Websites"). Please read the Terms of Service carefully before you start to use the Websites. By using our Websites, you accept and agree to be bound and abide by all the terms and conditions of this Terms of Service, including our Privacy Policy, found here, and if applicable, our Terms of Sale, found here, each incorporated herein by reference. If you do not want to agree to these Terms of Service, the Terms of Sale or the Privacy Policy, you must not access or use the Websites.
These Terms of Service, together with our Privacy Policy and any subsequent privacy notices or click-through agreements, contain the entire understanding and agreement between you ("user") and Catholic Answers with respect to the Websites and it supersedes all previous communications, negotiations, and agreements, whether oral, written, or electronic, related to any understanding or agreement. We may revise and update these Terms of Service from time to time in our sole discretion. All changes are effective immediately when we post them, and apply to all access to and use of the Websites thereafter. However, any changes to the dispute resolution provisions set out in Applicable Law and Jurisdiction will not apply to any disputes for which the parties have actual notice before the date the change is posted on the Websites.
1. Parties
Throughout this Agreement "we", "us", "our" and "ourselves" along with "Catholic Answers" refers to Catholic Answers, Inc. its subsidiaries, owners, shareholders, directors, officers, partners, employees, agents, heirs, and authorized representatives – unless otherwise noted. "You", "your", "yourself", and "user" refers to anyone accessing the Websites and includes the company, association, entity or agency that the user represents.
2. Conditions of Use
By using our Websites you agree that you are at least 18 years of age.
Every time you use our Websites you agree to:
All the conditions contained in this Terms of Service, the Privacy Policy, and, if applicable, the Terms of Sale;
Not to use the material found on our Websites for any purpose not intended by us; and
Only use the content on our Websites in accordance with all laws that may apply.
Our passion is to provide you with answers and resources to help you understand and defend the Catholic Faith. Producing these excellent resources requires enormous time and effort and we appreciate your help in making sure the material is used the right way. All the material on our Websites is copyright or trademark protected; including all web content, social media content, and blog content, as well as all published material for sale through our Websites. Any speaker content is also copyright protected. Our material may only be used according to our express conditions.
3. Intended Purposes
By using our Websites, you agree not to use them in order to discriminate on the basis of race, ethnicity, gender, age, creed, religion, or any other legally protected class. In addition, you agree not to use the information contained in our online material to misrepresent or harm Catholic Answers or the Catholic Church.
To the extent that our Websites offer comments, responses, forums or other similar user participation, please be aware that you cannot advertise, solicit, bargain, or exchange money, goods or services on our Websites. Abuse, harassment, bullying, intimidation, threats, and other negative content will also not be tolerated. We reserve the absolute right to remove anyone for behavior we deem is offensive or illegal.
We can't monitor all participation and content related to our Websites, and so there should be no expectation that these types of behaviors won't happen from time to time. By using our Websites you assume all risk, including any interactions with other users (online or offline). We strongly suggest you take every precaution you can to protect yourself and your information. Please do not include private information (e.g. phones numbers, addresses, last names, email addresses, instant messaging info, etc.) in any public areas of the Websites. If you believe anyone is violating or asking you to violate these rules please don't hesitate to contact us right away.
4. Third Parties
Our Websites may provide links to third parties or their sites not under the control of Catholic Answers. Accordingly, we can't be responsible, directly or indirectly, for the content, management, handling of your personal data, or availability of those websites.
We also don't necessarily endorse or agree with all content, business practices, advertising, services, or products from third parties – including advertisers. Once you leave our Websites, you are subject to that location's agreement(s) and we can't be responsible for the management of your information.
The scope of the information and services provided by us are limited. We make no other promises outside of those explicitly stated here or within the Websites.
5. Privacy Policy
Your privacy is very important to us. The information you share with us, especially when making donations or purchasing our materials, can be personal and sensitive.
Please read our Privacy Policy carefully in order to understand why and how we use the data we collect from you in the use of our Websites.
6. Communications
By providing your personal information to us, you are "opting in" to receive communications from us. Though we would be sad to see you go, we do offer you the option to opt out of sales or newsletter communications. Simply click the "unsubscribe" handle – typically at the bottom of the communication – and we will remove you from our list. Please be patient, though, it may take up to 10 days to remove you from our list. Third party communications are not under our control and additional steps may be required to discontinue communications from those sources.
By using our Websites, to the extent permissible by law, that any communications that the law requires (such as notifications, invoices, collection efforts, disclosures, or agreements) may be electronically sent and meet any legal requirements for "written" communications or notifications.
7. Applicable Law & Jurisdiction
The laws of California will govern these Terms of Service or any dispute or claims relating to the Terms of Service. All disputes and claims will be arbitrated or litigated in San Diego, California and you consent to the exclusive jurisdiction and venue of the State and Federal courts in San Diego, California.
8. User Content
The Websites may contain message boards, chat rooms, personal web pages or profiles, forums, bulletin boards, and other interactive features (collectively, "Interactive Services") that allow users to post, submit, publish, display, or transmit to other users or other persons (hereinafter, "post") content or materials (collectively, "User Content") on or through the Websites.
By communicating with us you grant permission and rights to any User Content received by you, subject to our Privacy Policy. Any User Content you post to the site will be considered non-confidential and non-proprietary. This gives us the right to use, reproduce, publish, or modify the User Content in any market or location and by any means we deem appropriate.
You also agree that you will not use any copyrighted, patented, or trademarked material from any other sources without prior written permission from the owner of the material. Also, we make every effort to be a God-honoring organization. User Content must not:
Contain any material that is defamatory, obscene, indecent, abusive, offensive, harassing, violent, hateful, inflammatory, or otherwise objectionable.
Promote sexually explicit or pornographic material, violence, or discrimination based on race, sex, religion, nationality, disability, sexual orientation, or age.
Infringe any patent, trademark, trade secret, copyright, or other intellectual property or other rights of any other person.
Violate the legal rights (including the rights of publicity and privacy) of others or contain any material that could give rise to any civil or criminal liability under applicable laws or regulations or that otherwise may be in conflict with these Terms of Service, the Terms of Sale, and our Privacy Policy.
Be likely to deceive any person.
Promote any illegal activity, or advocate, promote, or assist any unlawful act.
Cause annoyance, inconvenience, or needless anxiety or be likely to upset, embarrass, alarm, or annoy any other person.
Impersonate any person, or misrepresent your identity or affiliation with any person or organization.
Involve commercial activities or sales, such as contests, sweepstakes, and other sales promotions, barter, or advertising.
Give the impression that they emanate from or are endorsed by us or any other person or entity, if this is not the case.
All User Content provided by the user is the user's own opinion and doesn't necessarily represent us or any other affiliated party. We are not responsible or liable to any third party for the content or accuracy of any User Content posted by you or any other user of the Websites.
If you believe someone has infringed another's copyright protections, please notify us immediately. We take allegations seriously and will investigate the matter, and terminate (according to the US Digital Millennium Copyright Act) any account we deem to be a risk of further violations.
We reserve the right to remove access and/or content of any user at our sole discretion.
9. Financial Agreement
When you sign up to use our services you should be aware that we use third-party vendors for the transactions. Along with your credit card service provider, we use a third party for processing payment. Please see our Privacy Policy for additional information regarding how your data is handled. Be certain to read all the disclaimers carefully during any transaction.
10. Disclaimers
Our Websites do not create any representations, warranties, duties or obligations on the part of Catholic Answers. It is all provided on an "as is" and "as available" basis. To the fullest extent permitted by law, we disclaim any representation or warranty (express or implied) of title, non-infringement, merchantability, fitness for a particular purpose, security or accuracy, that may arise by statute, custom, course of dealing, course of performance, or in any other way. WITHOUT LIMITING THE FOREGOING, NEITHER CATHOLIC ANSWERS NOR ANYONE ASSOCIATED WITH THE CATHOLIC ANSWERS REPRESENTS OR WARRANTS THAT THE WEBSITE, ITS CONTENT, OR ANY SERVICES OR ITEMS OBTAINED THROUGH THE WEBSITE WILL BE ACCURATE, RELIABLE, ERROR-FREE, OR UNINTERRUPTED, THAT DEFECTS WILL BE CORRECTED, THAT OUR SITE OR THE SERVER THAT MAKES IT AVAILABLE ARE FREE OF VIRUSES OR OTHER HARMFUL COMPONENTS, OR THAT THE WEBSITE OR ANY SERVICES OR ITEMS OBTAINED THROUGH THE WEBSITE WILL OTHERWISE MEET YOUR NEEDS OR EXPECTATIONS.
You understand that we cannot and do not guarantee or warrant that files available for downloading from the internet or the Websites will be free of viruses or other destructive code. You are responsible for implementing sufficient procedures and checkpoints to satisfy your particular requirements for anti-virus protection and accuracy of data input and output, and for maintaining a means external to our site for any reconstruction of any lost data. TO THE FULLEST EXTENT PROVIDED BY LAW, WE WILL NOT BE LIABLE FOR ANY LOSS OR DAMAGE CAUSED BY A DISTRIBUTED DENIAL-OF-SERVICE ATTACK, VIRUSES, OR OTHER TECHNOLOGICALLY HARMFUL MATERIAL THAT MAY INFECT YOUR COMPUTER EQUIPMENT, COMPUTER PROGRAMS, DATA, OR OTHER PROPRIETARY MATERIAL DUE TO YOUR USE OF THE WEBSITE OR ANY SERVICES OR ITEMS OBTAINED THROUGH THE WEBSITE OR TO YOUR DOWNLOADING OF ANY MATERIAL POSTED ON IT, OR ON ANY WEBSITE LINKED TO IT.
11. Limitation of Liability
To the fullest extent permitted by law, we disclaim any liability for any losses or expenses arising out of the use of our Websites and any materials. This disclaimer includes, but is not limited to: punitive, incidental, consequential, direct, indirect, loss of use, loss of data, resulting from a virus, loss of income or profit, damages to property, third-party claims including attorney's fees, or of any other type, and based on any legal basis.
12. Indemnification
You agree to defend, indemnify, and hold harmless Catholic Answers, its affiliates, licensors, and service providers, and its and their respective officers, directors, employees, contractors, agents, licensors, suppliers, successors, and assigns from and against any claims, liabilities, damages, judgments, awards, losses, costs, expenses, or fees (including reasonable attorneys' fees) arising out of or relating to your violation of these Terms of Service or your use of the Websites, including, but not limited to, your User Contributions, any use of the Website's content, services, and products other than as expressly authorized in these Terms of Use, or your use of any information obtained from the Website.
13. Waiver and Severability
No waiver by us of any term or condition set out in these Terms of Service shall be deemed a further or continuing waiver of such term or condition or a waiver of any other term or condition, and any failure by us to assert a right or provision under these Terms of Service shall not constitute a waiver of such right or provision.
If a portion(s) or part(s) of the disclaimers contained in this agreement is found to be invalid or unenforceable it does not affect any other portion of the agreement. Any remaining aggregate liability shall not exceed ten dollars ($10.00 US).
If any other provision of these Terms of Service is held to be invalid or unenforceable, the offending provision shall be eliminated or limited to the minimum extent so as to best accomplish the objectives of the original provision to the fullest extent allowed by law and the remaining provisions of these Terms of Service will remain in full force and effect.
14. Online Purchases and Other Terms and Conditions
All purchases through our Websites or other transactions for the sale of goods services formed through the Websites, or resulting from visits made by you, are governed by our Terms of Sale and Privacy Policy, which are hereby incorporated into these Terms of Service.
Additional terms and conditions may also apply to specific portions, services, or features of the Websites. All such additional terms and conditions are hereby incorporated by this reference into these Terms of Service.
15. For Your Protection
Use of our Websites and materials may grant you specific legal rights that will vary by location. Some jurisdictions do not allow certain kinds of limitations or exclusions of liability and so some contained in this Agreement may not pertain to you. We reserve all available limitations and exclusions allowable under applicable law. Whatever statutory rights you may have as a consumer that conflict with the provisions above are not affected by these provisions, and we do not seek to exclude or limit liability for fraudulent misrepresentation.
16. Entire Agreement
The Terms of Service, our Privacy Policy and Terms of Sale constitute the sole and entire agreement between you and Catholic Answers regarding the Websites and supersede all prior and contemporaneous understandings, agreements, representations, and warranties, both written and oral, regarding the Websites.