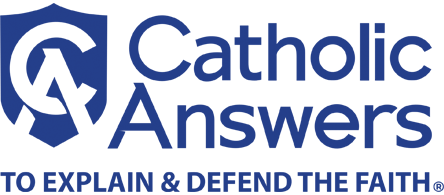 There are few more confusing topics than salvation. It goes beyond the standard question posed by Fundamentalists: "Have you been saved?" What the question also means is: "Don't you wish you had the assurance of salvation?" Evangelicals and Fundamentalists think they do have such an absolute assurance.
All they have to do is "accept Christ as their personal Savior," and it's done. They might well live exemplary lives thereafter, but living well is not crucial and does not affect their salvation. But is this true? Does the Bible support this concept?
Scripture teaches that one's final salvation depends on the state of the soul at death. As Jesus himself tells us, "He who endures to the end will be saved" (Matt. 24:13; cf. 25:31–46). One who dies in the state of friendship with God (the state of grace) will go to heaven. The one who dies in a state of enmity and rebellion against God (the state of mortal sin) will go to hell.
For many Fundamentalists and Evangelicals it makes no difference—as far as salvation is concerned—how you live or end your life. You can announce that you've accepted Jesus as your personal Savior, and, so long as you really believe it, you're set. From that point on there is nothing you can do, no sin you can commit, no matter how heinous, that will forfeit your salvation. You can't undo your salvation, even if you wanted to.
Take a look at what Wilson Ewin, the author of a booklet called There is Therefore Now No Condemnation, says. He writes that "the person who places his faith in the Lord Jesus Christ and his blood shed at Calvary is eternally secure. He can never lose his salvation. No personal breaking of God's or man's laws or commandments can nullify that status."
"To deny the assurance of salvation would be to deny Christ's perfect redemption," argues Ewin, and this is something he can say only because he confuses the redemption that Christ accomplished for us objectively with our individual appropriation of that redemption. The truth is that in one sense we are all redeemed by Christ's death on the cross—Christians, Jews, Muslims, even animists in the darkest forests (1 Tim. 2:6, 4:10; 1 John 2:2)—but our individual appropriation of what Christ provided is contingent on our response.
Certainly, Christ did die on the cross once for all and has abundantly provided for our salvation, but that does not mean that there is no process by which this is applied to us as individuals. Obviously, there is, or we would have been saved and justified from all eternity, with no need to repent or have faith or anything else. We would have been born "saved," with no need to be born again. Since we were not, since it is necessary for those who hear the gospel to repent and embrace it, there is a time at which we come to be reconciled to God. And if so, then we, like Adam and Eve, can become unreconciled with God and, like the prodigal son, need to come back and be reconciled again with God.
You Can't Lose Heaven?
Ewin says that "no wrong act or sinful deed can ever affect the believer's salvation. The sinner did nothing to merit God's grace and likewise he can do nothing to demerit grace." But when one turns to Scripture, one finds that Adam and Eve, who received God's grace in a manner just as unmerited as anyone today, most definitely did demerit it—and lost grace not only for themselves but for us as well (cf. also Rom. 11:17-24).
Regarding the issue of whether Christians have an "absolute" assurance of salvation, regardless of their actions, consider this warning Paul gave: "See then the kindness and the severity of God: severity toward those who have fallen, but God's kindness to you, provided you continue in his kindness; otherwise you too will be cut off" (Rom. 11:22; see also Heb. 10:26–29, 2 Pet. 2:20–21).
Can You Know?
Related to the issue of whether one can lose one's salvation is the question of whether one can know with complete certainty that one is in a state of salvation. The "knowability" of salvation is a different question than the "loseability" of salvation.
From the Radio Bible Class listeners can obtain a booklet called Can Anyone Really Know for Sure? The anonymous author says the "Lord Jesus wanted his followers to be so sure of their salvation that they would rejoice more in the expectation of heaven than in victories on earth. 'These things I have written to you who believe in the name of the Son of God, that you may know that you have eternal life, and that you may continue to believe in the name of the Son of God (1 John 5:13).'"
Places where Scripture speaks of our ability to know that we are abiding in grace are important and must be taken seriously. But they do not promise that we will be protected from self-deception on this matter. Even the author of Can Anyone Really Know for Sure? admits that there is a false assurance: "The New Testament teaches us that genuine assurance is possible and desirable, but it also warns us that we can be deceived through a false assurance. Jesus declared: 'Not everyone who says to me, "Lord, Lord" shall enter the kingdom of heaven' (Matt. 7:21)."
Sometimes Fundamentalists portray Catholics as if they must every moment be in terror of losing their salvation since Catholics recognize that it is possible to lose salvation through mortal sin. But this portrayal is in error. Catholics do not live lives of mortal terror concerning salvation. True, salvation can be lost through mortal sin, but such sins are by nature grave ones, and not the kind that a person living the Christian life is going to slip into committing on the spur of the moment, without deliberate thought and consent. Neither does the Catholic Church teach that one cannot have an assurance of salvation. This is true both of present and future salvation.
One can be confident of one's present salvation. This is one of the chief reasons why God gave us the sacraments—to provide visible assurances that he is invisibly providing us with his grace. And one can be confident that one has not thrown away that grace by simply examining one's life and seeing whether one has committed mortal sin. Indeed, the tests that John sets forth in his first epistle to help us know whether we are abiding in grace are, in essence, tests of whether we are dwelling in grave sin. For example, "By this it may be seen who are the children of God, and who are the children of the devil: whoever does not do right is not of God, nor he who does not love his brother" (1 John 3:10), "If any one says, 'I love God,' and hates his brother, he is a liar; for he who does not love his brother whom he has seen, cannot love God whom he has not seen" (1 John 4:20), "For this is the love of God, that we keep his commandments. And his commandments are not burdensome" (1 John 5:3).
Likewise, by looking at the course of one's life in grace and the resolution of one's heart to keep following God, one can also have an assurance of future salvation. It is this Paul speaks of when he writes to the Philippians and says, "And I am sure that he who began a good work in you will bring it to completion at the day of Jesus Christ" (Phil. 1:6). This is not a promise for all Christians, or even necessarily all in the church at Philippi, but it is a confidence that the Philippian Christians in general would make it. The basis of this is their spiritual performance to date, and Paul feels a need to explain to them that there is a basis for his confidence in them. Thus he says, immediately, "It is right for me to feel thus about you all, because I hold you in my heart, for you are all partakers with me of grace, both in my imprisonment and in the defense and confirmation of the gospel" (1:7).
There are many saintly men and women who have long lived the Christian life and whose characters are marked with profound spiritual joy and peace. Such individuals can look forward with confidence to their reception in heaven.
Such an individual was Paul, writing at the end of his life, "I have fought the good fight, I have finished the race, I have kept the faith. Henceforth there is laid up for me the crown of righteousness, which the Lord, the righteous judge, will award to me on that Day" (2 Tim. 4:7-8). But earlier in life, even Paul did not claim an infallible assurance, either of his present justification or of his remaining in grace in the future. Concerning his present state, he wrote, "I am not aware of anything against myself, but I am not thereby justified [Gk., dedikaiomai]. It is the Lord who judges me" (1 Cor. 4:4). Concerning his remaining life, Paul was frank in admitting that even he could fall away: "I pummel my body and subdue it, lest after preaching to others I myself should be disqualified" (1 Cor. 9:27). Of course, for a spiritual giant such as Paul, it would be quite unexpected and out of character for him to fall from God's grace. Nevertheless, he points out that, however much confidence in his own salvation he may be warranted in feeling, even he cannot be infallibly sure either of his own present state or of his future course.
The same is true of us. We can, if our lives display a pattern of perseverance and spiritual fruit, have not only a confidence in our present state of grace but also of our future perseverance with God. Yet we cannot have an infallible certitude of our own salvation. There is the possibility of self-deception (cf. Matt. 7:22-23). There is also the possibility of falling from grace through mortal sin, and even of falling away from the faith entirely, for as Jesus told us, there are those who "believe for a while and in time of temptation fall away" (Luke 8:13). It is in the light of these warnings and admonitions that we must understand Scripture's positive statements concerning our ability to know and have confidence in our salvation. Assurance we may have; infallible certitude we may not.
For example, Philippians 2:12 says, "Therefore, my beloved, as you have always obeyed, so now, not only as in my presence but much more in my absence, work out your own salvation with fear and trembling." This is not the language of self-confident assurance. Our salvation is something that remains to be worked out.
What to Say
"Are you saved?" asks the Fundamentalist. The Catholic should reply: "As the Bible says, I am already saved (Rom. 8:24, Eph. 2:5–8), but I'm also being saved (1 Cor. 1:18, 2 Cor. 2:15, Phil. 2:12), and I have the hope that I will be saved (Rom. 5:9–10, 1 Cor. 3:12–15). Like the apostle Paul I am working out my salvation in fear and trembling (Phil. 2:12), with hopeful confidence in the promises of Christ (Rom. 5:2, 2 Tim. 2:11–13)."
---
NIHIL OBSTAT: I have concluded that the materials
presented in this work are free of doctrinal or moral errors.
Bernadeane Carr, STL, Censor Librorum, August 10, 2004
IMPRIMATUR: In accord with 1983 CIC 827
permission to publish this work is hereby granted.
+Robert H. Brom, Bishop of San Diego, August 10, 2004