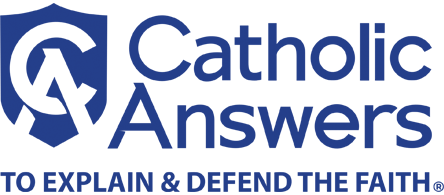 What is SOCIETY 315?
Our Lord needs articulate defenders of the truth to show the world the joy of the Catholic faith. SOCIETY 315 is a monthly giving club that lets you partner with us to fulfill the call in 1 Peter 3:15 to "Always be prepared to make a defense to anyone who calls you to account for the hope that is in you." SOCIETY 315 Defenders of Faith help Catholic Answers continue to help Catholics grow in their faith, bring former Catholics home, and lead non-Catholics into the fullness of the truth.
Why does Catholic Answers need your monthly support?
Recurring online monthly donors form the backbone of financial support at Catholic Answers. Your monthly gift helps us plan for the future by providing realistic expectations of future support. Monthly gifts are critical because Catholic Answers receives no money from the Vatican, any diocese or bishops conference, or other organization affiliated directly with the Church. We rely entirely on the generosity of those who have been touched by our work and feel called to share their financial blessings with us.
How do I join?
For as little as $10 per month, you can make a difference by partnering with us to continue to provide trusted resources in support of the Catholic faith. Together, we can always be ready to give a reason for the hope that we share.
You'll receive unique incentives and exclusive updates
A Welcome Kit with a SOCIETY 315 t-shirt, a Catholic.com car magnet, and a perpetual 20% discount code for our shop (Please note: At this time only US addresses will receive a welcome kit)
Exclusive content such as speaker talks, event invitations, previews, and digital products
Regular updates on how you are making an impact
Opportunities to socialize with other SOCIETY 315 members at Catholic Answers events
Free subscription to Catholic Answers Magazine
And more! Join Today
Your radio program and website have been indispensable since my conversion. You led me out of the confusion I had as a lukewarm, liberal college kid and into a passionate, vigorous embrace of Catholicism, including the hard teachings. I'm very happy to support Catholic Answers by being a SOCIETY 315 monthly donor.
Become a SOCIETY 315 Defender of Faith
Already a SOCIETY 315 Defender of Faith and want to increase your gift?