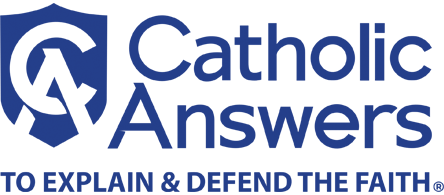 All material on this website is copyrighted and may not be used apart from these permissions guidelines without prior written permission from Catholic Answers.
Quotation
Individuals are permitted to make brief quotations from the material on this site in keeping with the "fair use" provisions of copyright law. In such cases, proper attribution must be made.
Attribution
When a given text does not have an author byline, Catholic Answers should be listed as the author. For example, a citation of the tract The Divinity of Christ would read:
Catholic Answers, "The Divinity of Christ" (San Diego: Catholic Answers, 2001)
Linking
Other sites are welcome to establish links to any of our websites. Links to individual pages are also welcome.
To create a text link such as www.catholic.com you need to type the following HTML into your web page:
<a href="https://www.catholic.com">www.catholic.com</a>
To create the forums text link above, you need to type the following HTML into your web page:
<a href="https://forums.catholic.com">Catholic Answers Forums</a>
Printing
Individuals may print individual pages of this site and may make a small number of copies for personal use, sharing with friends, use in a class, etc. These copies may not be sold.
The files in the "Read" section are available in tract or booklet form. For larger distributions of material (more than a few copies), individuals must purchase these printed versions. For information on bulk purchases, visit our online catalogue, call toll-free 888-291-8000, or e-mail orders@catholic.com.
Downloading
Individuals may download and save the pages and audio files housed on this site provided that they are for their personal use only.
Uploading
Individuals are expressly prohibited from uploading the contents of pages from this site to other Internet sites (except for temporary venues such as e-mail discussion lists, chat rooms, message boards, and newsgroups). Instead, we recommend that webmasters create links to the pages housed on this site.
Other Permissions
All other permissions requests should be directed to permissions@catholic.com.