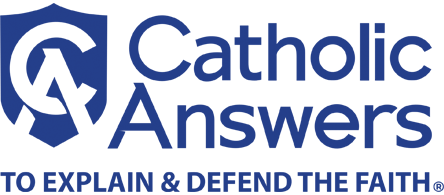 From the very beginning of the Protestant Reformation, Martin Luther rejected certain Church teachings. These did not fit his personal theology that he believed he could sufficiently prove from Scripture (or, at least from that part of Scripture that he did not throw out). If the Church taught something contrary to Luther's ideas then, he claimed, it must have been instituted by the Church—not by Christ as evidenced in Scripture.
Never mind that John the Evangelist wrote of the limitations of Scripture, "But there are also many other things which Jesus did; were every one of them to be written, I suppose that the world itself could not contain the books that would be written" (Jn 21:25). Never mind that the apostles taught and practiced it, and the Church Fathers attested to it. If Luther did not like it and it wasn't explicitly taught in Scripture, it was rejected.
Unfortunately for his followers, Luther deprived them of true access to the fullness of Christian initiation that Jesus intended his followers to have: the sacrament of confirmation.
He Has Anointed Me
It is true that the words sacrament of confirmation do not appear explicitly anywhere in Scripture—even in the parts of Scripture Luther rejected. But, of course, neither do the words Trinity or Bible. Even so, these underlying concepts are implicit in Scripture. The same is true of the sacrament of confirmation.
In fact, confirmation—a special anointing with the Holy Spirit—has its roots in Old Testament prophecy. Isaiah prophesied that the promised Messiah would be specially anointed with the Holy Spirit. The Hebrew word Messiah literally means "anointed one": "There shall come forth a shoot from the stump of Jesse, and a branch shall grow out of his roots. And the Spirit of the Lord shall rest upon him, the spirit of wisdom and understanding, the spirit of counsel and might, the spirit of knowledge and the fear of the Lord" (Is 11:1-2).
Over 700 years later, Luke testifies that Jesus is that Anointed One:
[Jesus] stood up to read; and there was given to him the book of the prophet Isaiah. He opened the book and found the place where it was written, "The Spirit of the Lord is upon me, because he has anointed me to preach good news to the poor. He has sent me to proclaim release to the captives and recovering of sight to the blind, to set at liberty those who are oppressed, to proclaim the acceptable year of the Lord." And he closed the book, and gave it back to the attendant, and sat down; and the eyes of all in the synagogue were fixed on him. And he began to say to them, "Today this scripture has been fulfilled in your hearing." (Lk 4:14-21).
Paul recognized this anointing in Jesus as well: "God anointed Jesus of Nazareth with the Holy Spirit and with power; . . . he went about doing good and healing all that were oppressed by the devil, for God was with him" (Acts 10:38).
My Spirit in You
Clearly, Jesus was anointed with the Holy Spirit. So what does that have to do with confirmation? Quite simply, Jesus promised his followers an anointing similar to that which they recognized in him: He instituted the sacrament of confirmation.
John wrote:
"He who believes in me, as the scripture has said, "'Out of his heart shall flow rivers of living water.'" Now this he said about the Spirit, which those who believed in him were to receive; for as yet the Spirit had not been given, because Jesus was not yet glorified. (Jn 7:38-39)
John recognized that Christians were to receive a special anointing with the Holy Spirit, one that Jesus instituted for his followers. The fact that he would do so was even prophesied in the Old Testament:
I will sprinkle clean water upon you, and you shall be clean from all your uncleannesses, and from all your idols I will cleanse you. A new heart I will give you, and a new spirit I will put within you; and I will take out of your flesh the heart of stone and give you a heart of flesh. And I will put my spirit within you, and cause you to walk in my statutes and be careful to observe my ordinances. (Ez 36:25-27)
We can clearly see in this passage references to two of the sacraments of Christian initiation—baptism ("I will sprinkle clean water upon you") and confirmation ("I will put my spirit within you").
The apostles reveal this dual action of baptism and confirmation in practice. For example, Peter commanded Christians to be both baptized and confirmed (receive the gift of the Holy Spirit): "Repent, and be baptized every one of you in the name of Jesus Christ for the forgiveness of your sins; and you shall receive the gift of the Holy Spirit" (Acts 2:38).
Distinct from Baptism
Some non-Catholics will point out that the Holy Spirit is at work in baptism. If so, aren't these references to the reception of the Holy Spirit just implying baptismal graces, not confirmation graces?
That's a good question, but Peter's words in Acts 2 seem to refer to three distinct events: repentance; baptism for the forgiveness of sins (through the Holy Spirit); and reception of the gift of the Holy Spirit (confirmation).
This distinction between baptism and confirmation becomes clearer when we see that sometimes baptism was administered but the new Christians did not receive the gift of the Holy Spirit. Consider this passage:
Now when the apostles at Jerusalem heard that Samaria had received the word of God, they sent to them Peter and John, who came down and prayed for them that they might receive the Holy Spirit; for it had not yet fallen on any of them, but they had only been baptized in the name of the Lord Jesus. Then they laid their hands on them and they received the Holy Spirit. (Acts 8:14-17)
These new Christians had received the sacrament of baptism—the reference to baptism "in the name of the Lord Jesus" confirms this. Such wording was often necessary in apostolic times to distinguish between Christian baptism and various other forms of baptism available at the time (such as John's baptism and pagan baptisms). Since these Christians had been baptized, they had most certainly received the baptismal graces of the Holy Spirit (that is, forgiveness of sins) but, as Luke points out, the Holy Spirit "had not yet fallen on any of them"—they had not yet received the sacrament of confirmation.
Another striking example of the distinction between baptism and confirmation is found in Paul's experience at Ephesus:
[Paul] said to them, "Did you receive the Holy Spirit when you believed?" And they said, "No, we have never even heard that there is a Holy Spirit." And he said, "Into what then were you baptized?" They said, "Into John's baptism." And Paul said, "John baptized with the baptism of repentance, telling the people to believe in the one who was to come after him, that is, Jesus." On hearing this, they were baptized in the name of the Lord Jesus. And when Paul had laid his hands upon them, the Holy Spirit came on them; and they spoke with tongues and prophesied. (Acts 19:2-6)
Paul knew that these Ephesians had been baptized, so why question whether they had received the Holy Spirit unless he was asking if they had received something more than what baptism alone offered? It turns out that they had not received Christian baptism at all. We're told that the Ephesians were baptized first, and then Paul "laid his hands upon them" for them to receive the Holy Spirit. These are clearly two different events: Baptism is not administered by the laying on of hands—it is administered by pouring water, or sprinkling, or immersing. Confirmation is administered by laying hands on the confirmand.
Baptism and confirmation, then, are two separate steps in the process of full initiation into Christ's Church.
A Lost Gift
As Scripture verifies, the Messiah, Jesus, was anointed with the Holy Spirit, and he offered this special gift to his followers as well. The apostles not only baptized new Christians, but they confirmed them often immediately afterward. That Luther and other Protestants would reject the sacrament of confirmation or downgrade confirmation to a mere non-sacramental ritual is tragic for the followers of those faiths. They are deprived of the fullness of the graces of full Christian initiation. In a word, those followers have been deceived. John wrote about such deception and warned early Christians—who had been confirmed—not to fall prey to it:
Let what you heard from the beginning abide in you. If what you heard from the beginning abides in you, then you will abide in the Son and in the Father. And this is what he has promised us, eternal life. I write this to you about those who would deceive you; but the anointing which you received from him abides in you, and you have no need that any one should teach you; as his anointing teaches you about everything, and is true, and is no lie, just as it has taught you, abide in him. (1 Jn 2:24-27)
Notice that John points to the "anointing"—that is, confirmation—that these Christians had received as their strength. They did not need teachers beyond John and those in authority who had taught them the authentic Christian faith "from the beginning"; the gift of the Holy Spirit would help keep them strong in the true faith.
This the Church still teaches today: "Confirmation . . . gives us a special strength of the Holy Spirit to spread and defend the faith by word and action as true witnesses of Christ, to confess the name of Christ boldly, and never to be ashamed of the cross" (CCC 1303).
I dedicate this article to my children, Juliana, James, and Justin who, God willing, will receive the sacrament of confirmation this spring.