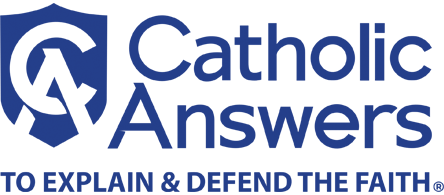 Let me tell you how I started from square one and became a Catholic apologist–and how you can do the same.
My interest in apologetics began about two years ago. I was a sales manager for a large company. Three sales representatives working with me were active evangelists for their religious groups.
Two of these men are Protestant ministers, and the other is a Mormon elder. They are fine men, and I am proud to call them my friends. Jerry is an Assemblies of God minister and an ex-Catholic. He is in his sixties and has worked many years in the ministry. A few years ago he started a church in a poor, rural community in the high desert area of California. He and his wife struggled to build the congregation, and he took a position with my organization to supplement his income–not only for his family's benefit, but so he could start a little school at his church.
Jimmy Swaggart is a strong influence on Jerry and helped to shape many of Jerry's views about Catholicism. Not unexpectedly, Jerry is strongly anti-Catholic, but when we talked he tried his best to hide these opinions because he feared alienating me or hurting my feelings.
Dale is the other minister. He is affiliated with the Church of Christ and is a young married man with two children. He took over a small but thriving church in the community in which I reside. He wasn't openly anti-Catholic, but he took pains to let me know when one of the members of my parish left Catholicism in order to embrace his "biblical" teachings.
The third individual who helped me decide to get involved in apologetics is Chuck, the Mormon elder. He was as subtle as a freight train. He would leave Mormon literature about, knowing full well I would read it. We had lively discussions but never seemed to get anywhere. He knew more about Mormonism that I knew about Catholicism.
More often than not, each time I was in the company of one of these men the discussion would center on religion and the Bible. When they were not trying to instruct me in their respective theologies, they would question me on Catholicism. I admit I wasn't much of a match for them.
Wherever my wife and I turned, we met Mormons, Jehovah's Witnesses, or Fundamentalists. The first two groups are quite active in our area. (There are three large Mormon congregations within six miles of our home.)
We often opened our front door to find a couple of nice looking, friendly missionaries, anxious to share their faith with us. Many times I simply told them I was Catholic and sent them away. It wasn't satisfying to do that, but I was not up to handling the inevitable charges that would be made against my Catholic faith.
My wife, Janet, has her own business, and this brought us into contact with many people. Occasionally we would invite some of these new friends into our home. Any observant person would recognize that we are a Catholic family. There are religious pictures, Catholic magazines and books, and statues of saints throughout the house.
Often we would find the discussion turning to religion, and we would be questioned about our beliefs. Sometimes we could answer the questions, and sometimes we couldn't. I wasn't a good spokesman for the Church.
Although brought up in a Catholic household, with practicing Catholic parents, I was never instructed in the faith. Like so many, I simply accepted what little I was taught about Catholicism. My mother set an example of Catholic piety, with not only Sunday Mass, but with regular novenas, Bishop Sheen on weekly television, and the family rosary every Friday evening. She died when I was sixteen years old, and with her went the only strong Catholic influence on my life.
When I was graduated from high school, I joined the Navy and was sent overseas. I stopped attending Mass and receiving the sacraments. In 1963 I met and married Janet. She had been baptized Catholic, but beyond that she had little or no Catholic training.
After ten years of marriage we attended a marriage encounter weekend, and God became an integral part of our relationship. Janet began instructions and was confirmed as a Catholic. Shortly after our encounter weekend, I had an opportunity to experience a Cursillo. There I met Catholic men in love with the Lord Jesus and with his Church.
This was new to me. I expected priests and nuns to be "religious," but this was my first experience with laymen who hungered for a deeper spirituality. The Cursillo made a profound impression on me. I began to have a greater appreciation of the Church and especially the Eucharist. I became involved in anything through which I could serve the Church and by which I could be drawn closer to Christ.
My first experience in apologetics came five years after returning to the sacraments. Janet and I returned to our hometown and decided to look up some old friends, Larry and Pam. Larry had been the best man at our wedding. We were shocked to find that they had become Jehovah's Witnesses. They and their two children were involved in door-to-door evangelization. I didn't know very much about the Witnesses' teachings at the time, and Larry was eager to instruct us in "the truth." Soon we were in a lively discussion about the existence or non-existence of hell. I realized I was outgunned.
Larry was well trained and confident in his beliefs. I fumbled around, not knowing what to say. I told Larry and Pam I would write them and continue the discussion. When Janet and I returned home, I began to read. I had an old seminary teaching outline on hell, and I used it as a basis for my argument.
When I completed my letter, I discussed it with my parish priest and asked for his suggestions. He agreed I had presented a good argument, but cautioned that I shouldn't expect the letter to do any good. He knew more about the Jehovah's Witnesses' mentality than I did and told me I had wasted my time. I mailed off the letter to Larry and Pam, expecting to find myself in a lively debate. I never heard from them again.
By the time I became involved with Jerry, Dale, and Chuck, I was an fervent Catholic–fervent, but ignorant about the foundations of Catholic teachings. When I engaged in a discussion, I came off looking ridiculous because I couldn't provide proofs for my Catholic beliefs. I wanted to be able not only to justify my beliefs, but to win others to the Church or, at the least, to keep other Catholics from leaving.
I knew that I had to start seriously studying if I was to be of any use in an apologetics ministry. I turned to my diocesan library. It was a disappointment–small and inadequate for my purposes. There are no seminaries in my area and no colleges that could provide the information that I required. Where to go? I began to think I had embarked on an exercise in futility.
A short time later friends informed me about a group of Catholic laymen who presented seminars on Catholicism and on Fundamentalism, Mormonism, the Jehovah's Witnesses, and other topics. I couldn't wait to find out more about it. Needless to say, the group was Catholic Answers.
My wife and I attended a presentation by Karl Keating on the Jehovah's Witnesses. A week later we attended a debate between Patrick Madrid and a Mormon official. I was so enthusiastic that I approached Karl about joining his staff. I must have looked a bit unbalanced. I knew that this was what I wanted to do, but at the time I didn't have anything to offer except enthusiasm. Karl suggested I begin studying, giving me a list of books I should master, and he encouraged me to develop an apologetics program of my own. I purchased books, a few at a time, and began my studies at once.
The first topic I researched was the theology of the Jehovah's Witnesses. I chose it because I thought it would be the easiest. I collected back issues of The Watchtower and Awake! magazines (five years' worth) and every book on the subject I could find.
I soon found the Witnesses quote obscure or out-of-print sources to justify their ideas. Most of the sources referred to in their publications were not easily available to me, but I checked with used book dealers and soon was able to obtain many of the publications to which the Watchtower Society referred.
I now have the 1914 Catholic Encyclopedia, the 1967 New Catholic Encyclopedia, the Judaica Encyclopedia, and many volumes by Catholic apologists. I tried to refute the Witnesses' teachings with solid research. They use only carefully selected quotations, usually taken out of context, to support their teachings. The study was enjoyable and kept me busy in my spare hours.
A couple of months later I was ready to give my first seminar.I submitted my presentation to a local priest to assure him that what I would be presenting would conform to Church teachings. He agreed to sponsor my presentation and helped me advertise in the local area.
Eighty-five people attended the seminar. The formal presentation lasted two hours, and there was a half-hour question-and-answer period. I was overwhelmed with the enthusiastic response. I had arranged to have the presentation videotaped by my cousin, who is a professional. I intended to use the video to critique my style. As it turned out, people asked to purchase copies of the video. I never expected such a positive response. My apologetics organization, Catholic Footsteps, was born that evening.
Since then I have been expanding my efforts. It hasn't been easy, but I'm not discouraged. There are parish priests who have been supportive and others who have been reluctant to have a lay person involved in teaching. I have been able to open doors by offering to set up book sales and by speaking briefly after each Mass. During the announcement period I talk for only three to four minutes, explaining the purpose of the book tables. After each Mass, while making sales, I have an opportunity to answer questions on a variety of subjects.
In my area, there are no Catholic book stores. The people in the pews are hungry for good Catholic books–not just about spiritual growth, but about apologetics, Church history, the sacraments, and how to pass the faith to children and grandchildren.
Twice monthly I set up book tables at parishes, sometimes driving more than 400 miles round trip. Sales have been as small as $100 and as large as $2200 on one Sunday. Congregations have ranged from a hundred to twelve hundred families.
I began with an inventory of 30 titles worth $800. I now carry 400 titles worth ten times as much. When the inventory reaches $20,000, which I expect will take about another year, I intend to see my local banker about a loan. I want to open a book store that will meet the needs of the Catholics in the high desert.
As my ministry has grown and I have become better known, people have begun telephoning with questions. I enjoy doing the research and being of help to others. I'm only one individual, but I like to think that I'm helping my fellow Catholics.
[Victor Claveau would be happy to advise others interested in working in apologetics. He may be contacted through Catholic Footsteps, P.O. Box 2145, Hesperia, California 92345; telephone (619) 948-2202.]