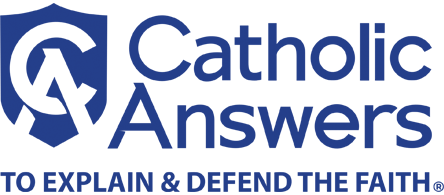 The Difference Between Faith and Hope
We hear about faith and hope all the time. But do we know what they really are?
I once received an email from a recent convert from Evangelicalism who was struggling with the "once saved, always saved" mindset with which she was raised. Having been raised as a Baptist with that same mindset, I can sympathize. It's enticing when you are presented with "You can know all of your sins are forgiven, past, present, and future, from the instant you become a believer in Jesus Christ!"
But there is one not-so-small problem among many others we could consider with this manner of thinking: it runs headlong into Sacred Scripture.
The biggest little two-letter word in the English language—if (two or three letters in Greek, depending upon which you use)—in key biblical passages makes it clear that we human beings must keep our God-ordained end of the bargain for our sins to be forgiven by God this side of the veil:
1 John 1:7: If we walk in the light, as he is in the light, we have fellowship one with another, and the blood of Jesus his Son cleanses us from all sin.

1 John 1:9: If we confess our sins, he is faithful and just, and will forgive our sins and cleanse us from all unrighteousness.

Matthew 6:14-15: For if you forgive men their trespasses, your heavenly Father also will forgive you; but if you do not forgive men their trespasses, neither will your Father forgive your trespasses.
These texts are unequivocal: the future sins of Christians are not forgiven. Whether or not they will be forgiven is contingent upon human cooperation.
The problem our inquirer was struggling with is not uncommon: "If I can lose my salvation, how should I understand my security as a Christian in my relationship with God? Does this mean I have to be fearing all the time that I could drop into hell any minute?"
In response to this very important question, some proper distinctions are critical.
First, we need to understand properly the difference between the theological virtues of faith and hope. When we Catholics speak of believing with "divine and catholic faith" as defined by Vatican I (Dei Filius 3), or "the assent of faith," as Lumen Gentium 25 describes it, we are talking about a faith that is ordered to the infallible teachings of the Church alone. Only infallible teaching can be the proper object of what I will refer to here as the assent of faith, because these teachings alone find their absolutely certain source in the unfailing power of Jesus Christ working in his Church and in the fact that God can "neither deceive nor be deceived" (CCC 156; cf. Dei Filius 3).
When it comes to the subjective application of those infallible truths of the Faith in the life of an individual member of the Church, we move into the domain of the theological virtue of hope. For example, if we consider infallible truths concerning justification or sanctification or salvation as they are applied to a particular Christian's life, belief in the multiple dogmas concerning these truths requires the assent of faith.
But whether or not the individual Christian perseveres in these teachings in his life is a matter ordered to the theological virtue of hope. Because a Christian can freely choose to walk away from God, he can only "hope" that he, in fact, won't. His final perseverance is not a matter of faith, properly speaking.
Second, we always want to take the middle road between presumption and despair when it comes to the knowledge we can ordinarily have concerning our state of grace before God (barring a private revelation, which goes beyond the parameters of this article). Both presumption and despair are sins, objectively speaking. For example, it would be presumptuous to say, "I know I am going to heaven no matter what may or may not happen in the future." But we don't want to fall prey to the sin of despair, either. "Woe is me—God would never forgive me for what I've done!" Or, as my interlocutor said above, "I'm afraid I am going to drop into hell any minute! There is no hope for me!"
There is no sin we can commit that is somehow greater or more powerful than God's grace. Only a mortal sin for which the sinner refuses to repent, and which can then lead to final impenitence, will not be forgiven. This is what Jesus referred to as "the sin against the Holy Spirit" (see Matt. 10:32; cf. CCC 1864, 1037).
If we are "working out our salvation with fear and trembling" as St. Paul says in Philippians 2:12, we have hope rooted in the faith that tells us God will "work in us both to will and to do according to his good pleasure" as Paul says in the very next verse. The "middle road" again is the key. We need a healthy sense of humility that acknowledges our own penchant for sin and the real possibility we could fall away.
St. Paul describes this state of mind very well of himself in 1 Corinthians 9:27: "I pummel my body and subdue it, lest after preaching to others I myself should be disqualified." Disqualified (Greek, adokimos) is the same word St. Paul uses in 2 Corinthians 13:5 for the reprobate. But, at the same time, our faith assures us God is faithful to his promises and wills all to be saved (2 Pet. 3:9, 1 Tim. 2:4). That faith is what enables us to truly "rejoice in our hope of sharing the glory of God" (Rom. 5:2).
It used to drive me crazy as a Protestant when I would hear a Catholic respond to the all-important question: "If you died right now, are you absolutely sure you would go to heaven immediately?" with a feeble "I hope so!" I used to respond as a matter of Baptist reflex: "I don't hope so—I know so! I have absolute certainty of my destination, brother!"
But the Catholics were right! As Catholic Christians, we don't "hope" the Trinity is true. We "believe" that it is infallibly so by a divine assent of faith rooted in the promise and power of Jesus Christ. But we do have to "hope" that we will finally be saved because that is when we Christians and our free choices enter the picture. Absolute certainty is no longer present to the equation; rather, it is a confident assurance (1 Cor. 4:3-6).
I can almost guarantee that any discussion like this with a "once saved, always saved" Protestant will lead to these very words or something akin to them: "But doesn't 1 John 5:13 say we can 'know' that we have eternal life?" The Catholic should respond, "Yes, it does." But in 1 John 5:14, St. John makes clear that he is using the term knowledge analogously to the "knowledge" we have when we petition God for our many and varied needs. In context, St. John says,
I write this to you who believe in the name of the Son of God, that you may know that you have eternal life. And this is the confidence which we have in him, that if we ask anything according to his will he hears us. And if we know he hears us in whatever we ask, we know that we have obtained the requests made of him.
Neither our petitions nor our final salvation is absolutely guaranteed (1 John 3:22; Psalm 66:18; 2 Cor. 12:8-9; Matt. 10:22, 24:45-51; Heb. 10:28-29; etc.).
And this leads me to my final point. The term knowledge in Scripture as well as in general human discourse does not always have the same meaning. Both faith and hope are sources of knowledge. But each represents a different kind of knowledge with differing levels of certainty. The knowledge we have through the assent of faith is an infallible knowledge, more certain than even the knowledge we gain through the natural light of reason (CCC 157). The knowledge we have of our final salvation is rooted in hope because it represents something we do not yet possess in full.
Now hope that is seen is not hope. For who hopes for what he sees? But if we hope for what we do not see, we wait for it with patience (Rom. 8:24-25).
St. Paul uses "to see" here in the way a student who finally understands a physics equation says, "Now I see." He now possesses that which he "sees." When it comes to the truths of the faith, we Catholics "possess" these essential truths, and infallibly so. When it comes to our final salvation, this is something we hope for: "Let us hold fast the confession of our hope without wavering, for he who promised is faithful" (Heb. 10:23).
Jesus tells us, "Be faithful unto death, and I will give you the crown of life" (Rev. 2:10).
The question is: will we be "faithful unto death"? The proper answer: "I hope so!"