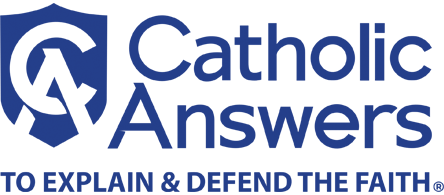 Lot Offers the Mob His Daughters . . . and Is Righteous?
Why would the Bible—and in the New Testament!—call Lot righteous when he offered his daughters to be raped by a mob? Here's the answer.
Some Bible critics claim that the Bible has a terrible moral compass when it comes to its own heroes. These men murder innocent people and even allow their daughters to be raped or burned alive. Even supposedly perfect Jesus teaches people to do things like hate their families and cut off their limbs!
Pope Benedict XVI said in Verbum Domini, "Revelation is suited to the cultural and moral level of distant times and thus describes facts and customs, such as cheating and trickery, and acts of violence and massacre, without explicitly denouncing the immorality of such things" (42). He goes on to say that modern readers can often be taken aback by these incidents and miss the context that explains them. Today, let's take a look at one of these cases and fill in the context that a modern reader might miss.
Genesis 19 tells the story of how Abraham's nephew Lot, along with his family, escaped the city of Sodom just before God destroyed it. 2 Peter 2:7 references this event and says that God "rescued righteous Lot, greatly distressed by the licentiousness of the wicked."
However, it seems odd that the Bible calls Lot "righteous," given what Lot did when an angry mob of Sodomites tried to rape the angels who were lodging with him. Instead of standing up to the mob, Lot offered his two daughters for the mob to rape! In Genesis 19:7-8, Lot says, "I beg you, my brothers, do not act so wickedly. Behold, I have two daughters who have not known man; let me bring them out to you, and do to them as you please; only do nothing to these men, for they have come under the shelter of my roof."
How can the Bible say Lot was righteous when he was willing to do something so terrible to his own daughters? Jason Long says, "A man with the moral qualities of Lot cannot be regarded as righteous unless you discount the inherent rights of all people, more specifically, the inherent rights of women" (113).
In order to understand why 2 Peter 2:7 calls Lot righteous, we need to look at the whole chapter's context. In 2 Peter 2, the author is warning Christians about false teachers who were spreading heresy. The author reassures listeners who may have faced these heretics, telling them, "The Lord knows how to rescue the godly from trial, and to keep the unrighteous under punishment until the day of judgment" (v. 9). Peter's evidence for this included references to God rescuing Noah's and Lot's families because those men were beacons of righteousness in their respective fallen communities.
When it comes to Lot, 2 Peter 2:7 says he struggled against Sodom's sexual sins, and Genesis 19:1 says Lot sat at "the city gate." In the ancient world, the city gate was a place for commercial activity as well as a place where disputes were settled. For example, Deuteronomy 21:18-21 says that an unruly son would be brought to judges at the city gate, and Ruth 4:1-11 describes how Boaz met with elders at the city gate in order to settle a legal dispute.
Therefore, Lot probably held a position of influence in Sodom and may have mediated disputes among its residents (234). Since even evildoers want justice when they've been wronged, Lot's position as a judge is evidence of his impartiality and righteousness.
However, this may also have caused Sodom's residents to resent him. Indeed, the mob at Lot's door berates him for refusing to hand over his guests, saying, "This fellow came to sojourn, and he would play the judge! Now we will deal worse with you than with them" (Gen. 19:9).
Lot's righteousness is also seen in his hospitality toward strangers, which was a sacred duty in ancient Mesopotamia. In a time when you couldn't go to a department store for clothes or check in at a motel when you needed shelter, the kindness of strangers could mean the difference between life and death. Lot understood that anyone who slept outside in Sodom was in grave danger of being attacked. Therefore, he offered the city's visitors shelter and wouldn't take no for an answer (Gen. 19:1-3).
Lot's awful decision to offer his daughters to the mob would have been rooted in ancient "hospitality norms" that valued protecting the guests dwelling under his roof. The Catholic Encyclopedia says, "Lot interceded in behalf of his guests in accordance with his duties as host, which are most sacred in the East, but made the mistake of placing them above his duties as a father by offering his two daughters to the wicked designs of the Sodomites."
It's important to remember that righteousness is not a synonym for perfection. In fact, the Hebrew word for "righteous" (tam) refers to moral completion or fulfilling one's duties (973). John the Baptist's father, Zechariah, was called righteous even though God punished him for not believing the angel's message about the future birth of his son (Luke 1:6-20). Saying Lot was righteous does not mean that 2 Peter condones Lot's decision to offer his daughters to the mob.
Of course, a critic could object that if God was willing to punish the Sodomites for their wicked behavior, then why didn't God punish Lot for his wicked cowardice? But the Genesis narrative actually implies that Lot was punished, since he later gets what can only be described as a humiliating form of "just deserts."
After fleeing into the hill country, Lot's daughters realize there are no men living in the vicinity. Perhaps due to the depraved lifestyle they observed in Sodom, the girls made up for this dearth of men by getting their father drunk and having sex with him (Gen. 19:30-36). In an ironic turn of events, Lot, who had previously offered his daughters up to be raped, has now been raped by his own daughters. Even worse, Lot's progeny go on to become the ancestors of Israel's enemies, the Moabites and the Ammonites (Gen. 19:37-38).
Critics like Brian Baker, who read this story and conclude in capital letters that "BIBLICAL FAMILY VALUES—INCLUDES INCEST!", completely miss the point of the story. To their complaints we can say, "The Bible is not a sterile collection of perfect people who always follow God's will. It is instead a drama about how God redeemed imperfect people and used them, in spite of their flaws, to accomplish his sovereign and holy will for mankind."
---
This article comes from Trent Horn's book Hard Sayings. For more difficult Bible passages and how to understand and defend them, buy the book today.