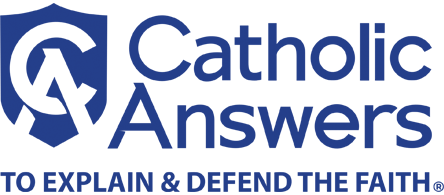 According to the Conference Board research group, only 45 percent of Americans are satisfied with their work. Only 51 percent claim they are even interested in their work. Both of these numbers are the lowest polled in the 22 years they've been researching the topic.
I would need a different poll question. I am not just "satisfied" with my work, but I can honestly say I love it. I can't even quantify the number of times my wife and I have said, "Thank God for Catholic Answers." She and I know all too well how blessed I truly am to be able to draw a paycheck for doing something that I absolutely adore. 
"What's to love?" you might ask.
Just a few months ago at our 2012 Catholic Answers Gala a man in his forties or so, Ken Geraci, approached me with his devout Catholic mother and shared how he had come to a conference at which I had spoken many years before—at the behest of that devout mother of his—with a list of 21 reasons why he was not Catholic. By the end of the conference he came back to Christ in his Church. They then shared with me how this young man had recently been ordained a priest for the Fathers of Mercy of Auburn, Kentucky.
Just two weeks ago, among the many letters and emails I received, I found letters from two very special souls. One was from the former Mark McPherson, now Brother Mark of the Cross in the Custody of the Holy Land. He was a young Franciscan who had written to me at Catholic Answers in 2005 because he was struggling in a Franciscan community that was anything but orthodox. He would shortly thereafter part company with that community.
He also shared with me how, after being at one of my debates with James White back in the 1990s, he "woke up to see that our faith is reasonable." It ignited in him a passion for apologetics. Today, he is a seminarian for his Franciscan community studying for the priesthood in Jerusalem.
The other letter came from Sr. Elizabeth Miles of the Servants of Mary, Ministers to the Sick in Kansas City, Kansas. She shared how her mother and father brought her to an apologetics seminar I gave in Buena Park, California, back in the mid-'90s. In her words, she was "not practicing [her] Catholic faith at the time, and was not living a good life."
Sr. Elizabeth told me "the seed was planted that night" that would eventually lead to her entering the convent in October of 2000. 
These are just a few of the reasons why I love my job. Testimonies like these are priceless. They inspire all of us at Catholic Answers to work even harder for our Lord and Holy Mother Church.  
Apologetics is not the job for you if you want to get financially rich. But spiritually—to borrow and tweak slightly a line from my favorite movie, It's a Wonderful Life, spoken by George Bailey's brother, Harry—we apologists are some of "the richest [men] in town!"