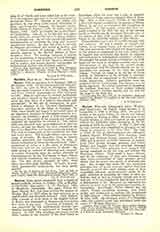 Click to enlarge
Barrow, WILLIAM, VENERABLE (alias WARING, alias HARCOURT), an English Jesuit martyr, b. in Lancashire, in 1609; d. June 30, 1679. He made his studies at the Jesuit College, St. Omers, and entered the Society at Watten in 1632. He was sent to the English mission in 1644 and worked on the London District for thirty-five years, becoming, in the beginning of 1678, its superior. In May of that year he was arrested and committed to Newgate on the charge of complicity in the Oates Plot. The trial, in which he had as fellow-prisoners his colleagues, Fathers Thomas Whitbread, John Fenwick, John Gavan, and Anthony Turner, commenced June 13, 1679, and is famous, or rather infamous, in history. Lord Chief Justice Scroggs presided, and Oates, Bedloe, and Dugdale were the principal witnesses for the Crown. The prisoners were charged with having conspired to kill the king and subvert the Protestant religion. They made a brave defense, and by the testimony of their own witnesses and their cross-examinations of their accusers proved clearly that the latter were guilty of wholesale perjury. But Scroggs laid down the two monstrous principles that (I) as the witnesses against them had recently received the royal pardon, none of their undeniable previous misdemeanors could be legally admitted as impairing the value of their testimony; and (2) that no Catholic witness was to be believed, as it was presumable that he had received a dispensation to lie. Moreover, he obstructed the defense in every way by his brutal and constant interruptions. Accordingly, Father Barrow and the others, though manifestly innocent, were found guilty, and condemned to undergo the punishment of high treason. They suffered together at Tyburn, June 20, 1679. By the papal decree of December 4, 1886, this martyr's cause was introduced under the name of "William Harcourt".
SYDNEY F. SMITH
---
Enjoying this content?
Please support our mission!
Donate