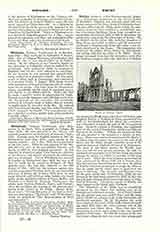 Click to enlarge
Whitbread, THOMAS, VENERABLE, alias HARCOURT, b. in Essex, 1618; martyred at Tyburn, June 30, 1679. He was educated at St. Omer's, and entered the novitiate of the Society of Jesus on September 7, 1635. Coming upon the English mission in 1647, he labored for more than thirty years, mostly in the eastern counties. On December 8, 1652, he was professed of the four vows. Twice he was superior of the Suffolk District, once of the Lincolnshire District, and finally in 1678 he was declared provincial. In this capacity he refused to admit Titus Oates as a member of the Society, and shortly afterwards the celebrated plot was fabricated. Father Whitbread was arrested in London on Michaelmas Day, 1678, but was so ill that he could not be moved to Newgate till three months later. He was first indicted at the Old Bailey, December 17, 1678, but, the evidence against him and his companions breaking down, he was remanded and kept in prison till June 13, 1679; later, he was again indicted, and with four other fathers was found guilty on the perjured evidence of Oates, Bedloe, and Dugdale (see Barrow, William, Venerable; the others were Fathers Fenwick, Gavin, and Turner). After the execution the remains of the martyrs were buried in St. Giles's in the Fields. Father Whitbread wrote "Devout Elevation of the Soul to God" and two short poems, "To Death" and "To his Soul", which are printed in "The Remonstrance of Piety and Innocence".
EDWIN BURTON
---
Enjoying this content?
Please support our mission!
Donate