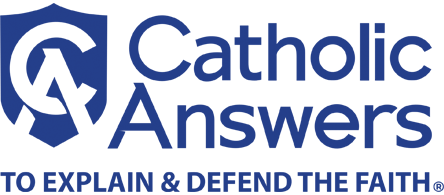 Robert Persons
Jesuit, b. at Nether Stowey, Somerset, June 24, 1546; d. in Rome, April 15, 1610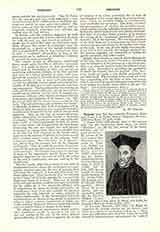 Click to enlarge
Persons (also, but less correctly, PARSONS), ROBERT, Jesuit, b. at Nether Stowey, Somerset, June 24, 1546; d. in Rome, April 15, 1610.
I. EARLY LIFE.—His parents were of the yeoman class (for the controversy about them, see below "Memoirs", pp. 36-47), but several of his many brothers rose to good positions. By favor of the local parson, John Hayward (once a monk at Taunton), Robert was sent to St. Mary's Hall, Oxford (1562). After taking his degrees with distinction he became fellow and tutor at B al-Hot (1568); but February 13, 1574, he was forced to resign, partly because of his strong Catholic leanings, partly through college quarrels. Before long, he went abroad, and was reconciled, probably by Father William Good, S.J., and after a year spent in travel and study, he became a Jesuit at Rome (July 3, 1575).
ENGLISH MISSION, 1579-1581.—At Rome he suggested the English mission for the Society, and when the students of the English College (q.v.) there came into difficulties with their first rector, he exerted himself to maintain peace, and proposed the "oath of the missions", an idea which was taken up, and is now in vogue throughout the Church. When the college was entrusted to the Jesuits, he was temporarily installed as rector (March 19, 1579). Dr. Allen (q.v.) came to Rome, October 10, 1579, to complete the college arrangements, already so well begun, and at his instance the Jesuit mission to England was decided upon (December, 1579). The year of mission in England (June 12, 1580, to late August, 1581) was the most useful of Persons' life. Ever at the post of danger, he yet managed to avoid seizure, while he organized means of missionary enterprise not for Jesuits only but for the whole country. Laymen and secular priests carried out his plans with wholehearted enthusiasm, and deserve unstinted praise for the results that followed. Persons not only preached, confessed, arranged missionary tours, and posts, he also wrote books and pamphlets, and set up his "magic press" (q.v., Stephen Brinkley), which printed and set forth Campion's "Decem Rations", while several books of his own, answers to onslaughts of Protestants, were brought out within a few days of the attack. Considering the losses previously incurred through want of courage and energy, it would be impossible to praise this pioneer work too highly. But later on the missionary methods had to be modified: the presses were transferred abroad, and the challenges to disputation were dropped. Though not initiated by Persons, they had been subsequently approved by him. (See Counter-Reformation. VII. England; Blessed Edmund Campion.)
III. POLITICS, 1582-84.—After Campion had been taken (July 17, 1581) and the press captured (August 8), Persons slipped across to France hoping to do some business with Allen, to set up a new press, and return. The press was begun again under George Flinton at Rouen, but Persons never saw England again, and found himself in entirely new circumstances, which led to new, and much less desirable results. He was now living under the French Provincial Pere Claude Matthieu, an advocate of armed resistance to the Huguenots; and he was necessarily under the influence of the King of Spain and the Duke of Guise, afterwards the leader of "La Sainte Ligue" and the champion of Mary Stuart. A great change too had come over her fortunes. Esme Stuart, Sieur d'Aubigny, created Duke of Lennox, the favorite of the youthful King James, espoused her side (March 7, 1582). Never had she had such an ally, who actually controlled the chief ports of Scotland, and enjoyed the king's entire confidence. Father William Crichton, S.J., an enthusiastic Scot, who had just gone to Edinburgh as a missioner, was completely carried away by the prospect, and returned at once to lay Lennox's offers before the Duke of Guise. Persons and Allen were summoned for advice, and a meeting was held in Paris (18-May 24), in which both they and the papal nuncio, and the Archbishop of Glasgow took part. Everyone agreed that the King of Spain and the pope should be called upon to help. If they did not, there was no chance of Lennox maintaining his position for long, with England and the Scottish Kirk allied against him. The congress decided that Persons should go to Philip, and Crichton to Pope Gregory; and though the two Jesuits demurred, as having other orders from their superiors, the papal nuncio insisted and his authority of course prevailed. Persons now undertook two journeys, to Philip in Spain (June—October, 1582) and to Rome (September, 1583). Pope Gregory fully approved the plans, but the king always refused to consent, with qualifications, however, which led Allen and Persons to hope on till the beginning of 1584, by which time Lennox had fallen, and the other favorable circumstances had ceased. Looking back we now recognize how great Father Personss error was; but it is also easy to see that with the approbation of the pope and of Allen and the other leading English Catholics living abroad, he had many excuses. He certainly did not contemplate the subjection of his country, but its liberation from an insufferable burden of persecution (see also The Spanish Armada. IV. Catholic Cooperation).
IV. SPAIN, 1588-97.—Recalled to Rome in 1585, he was professed there (May 7, 1587) and sent to Spain at the close of 1588, to conciliate King Philip, who was offended with Father Acquaviva. Persons was successful, and then made use of the royal favor to found the seminaries of Valladolid, Seville, and Madrid (1589, 1592, 1598) and the residences of San-Lucar, and of Lisbu (which became a college in 1622). Already in 1582 he had founded a school at Eu, the first English Catholic boys' school since the Reformation; and he now succeeded in establishing at St. Omers (1594) a larger institution to which the boys from Eu were transferred, and which, after a long and romantic history, still flourishes at Stonyhurst College (q.v.). Whilst in Rome and Spain Persons wrote several still extant State papers, which show that he was still in favor of armed intervention on behalf of the English Catholics, but his main policy was to wait for the next succession, when he expected there would be a variety of claimants, for it was one of Elizabeth's manias to leave the succession an open question. Persons thought that a Catholic successor and by preference the Infanta (who was a representative of the house of Lancaster) would have a fair chance. On this topic there appeared in 1594, under the pseudonym of N. Dolman, the important "Conference on the next succession". The penman was really Richard Verstegan (q.v.; see also, Record Office," Dom. Eliz.", 252, n. 66, and Vatican Archives, "Borghese", 448, ab, f. 339) but both Cardinal Allen and Sir Francis Englefield had helped and approved, while Persons had also revised the MS. and rewritten many passages. The book was a manifesto of his party, and though declining the authorship, he always defended its principle, which was the people's right of participation in the settlement of a ruler, as opposed to the Gallican theory of the Divine right of kings. (See Origin of Government; Gallicanism.) But though Persons's theory is praiseworthy, his practical conclusion (mentioned above) was illusory. Owing to the unpopularity of Spain, the book was very badly received, and he could not effectively prevent its popular attribution to himself. Ten years earlier (1584) another political publication in favor of Mary Queen of Scots, widely known as "Leicester's Commonwealth", had also been popularly ascribed to him; presumably because he very unwisely allowed a Jesuit lay-brother, Ralph Emerson, to take the first consignment of them to England, where they were seized. The real author was probably Charles Arundel.
V. THE APPELLANTS, 1598-1603.—Cardinal Allen died in 1594 and after he had gone, the English Catholics were tried by a series of the most distressing disturbances, which originated in the misery and consequent discontent of the exiles, and which gradually affected the seminaries, the clergy, and even the Catholic prisoners. Allen had ruled by personal influence; and left no successor. The clergy were without superior or organization. Persons returned to Rome (April, 1597) to quiet the disturbances at the English College, which no one else could calm. He was immediately and remarkably successful; and there was talk of making him a cardinal. But, as the pope never intended to do so, it is unnecessary to discuss what might have happened had he received that dignity. Cardinal Cajetano, the Protector, now ordered him to draw up a scheme of government for the rest of the clergy. His first idea was to establish an archbishop in Flanders, and a bishop in England, but considering the fury of the persecution a hierarchy of priests was preferred. In England an archpriest with assistants was appointed (March 7, 1598); in Flanders, Spain, and Rome, "Prefects of the Mission", while the nuncio in Flanders was to be the vicegerent of the cardinal-protector, with supreme jurisdiction. In point of fact it was found more convenient to deal directly with the archpriest, George Blackwell, who, albeit a good scholar and an amiable man, had not the skill and experience necessary to calm the disputes then raging, and his endeavors turned the complainants against himself. An appeal was carried against him to Rome; but was decided in his favor, April 6, 1599. But Father Persons, who had defended him, misunderstood the nature of the opposition, and treated the appellant envoys like recalcitrant scholars, and Blackwell misused his victory. A second appeal ensued (November, 1600), which was backed up by the publication of many books, some of which contained scandalous attacks on Father Persons, who defended himself in two publications "A briefe Apologie" (St. Omers?, 1601), and the "Manifestation" (1601). The appellants were patronized by the French ambassador, the archpriest by the Spanish, and the debate grew very warm, Father Persons' pen being busily engaged the whole time. Clement VIII in the end maintained the archpriest's authority, but justified the grounds of the appeal, ordering that six of the appellant party should be admitted among the assistants, cancelled the instruction which commanded the archpriest to seek the advice of the Jesuit superior in matters of greater moment, and forbade all further books on either side. Thus the appellants won the majority of points, and a party supported by France, but hostile to Persons, became influential among the English clergy.
VI. CONCLUSION, 1602-10.—Persons remained till his death rector of the English College, but he nearly lost that post in 1604. Clement VIII had been told by the French ambassador that James would be favorably impressed, if he proved his independence of the Jesuits, by sending Father Persons away. Persons, as it happened, was ill, and had to go to Naples (November, 1604); whereupon the pope gave orders for him not to return. But the pontiff himself died March 3, 1605, and his successor, Paul V, reversed his policy, which was unpopular at Rome. Persons returned to his post, and enjoyed full papal favor until his death. Father Persons' greatest work, his "Christian Directory" [originally called "The Book of Christian Exercise", and known as "The Book of Resolution" (Rouen, 1582), with innumerable editions and translations, had been conceived during his heroic mission in England. His edition of Sander's "De Schismate Anglicano" (Rome, 1506) had also an immense circulation. His later works, were controversial, written with wonderful vigor, irony, incisiveness, and an easy grasp of the most complex subjects; but they lack the deep sympathy and human interest of his missionary books. Father Persons was a man of great parts, eloquent, influential, zealous, spiritual, disinterested, fearless. Yet he had some of the defects of his qualities. He was masterful, sometimes a special pleader, and greater as a pioneer or sectional leader than as Generalissimo. Though his services in the mission field, and in the education of the clergy were priceless, his participation in politics and in clerical feuds cannot be justified except in certain aspects.
J. H. POLLEN
---