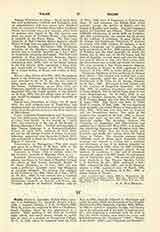 Click to enlarge
Walsh, PATRICK, journalist, United States senator; b. at Ballingary, Co. Limerick, Ireland, January 1, 1840; d. Augusta, Georgia, U.S.A., March 19, 1900. With his parents he emigrated in 1852 to Charleston, South Carolina, where he was apprenticed to a printer. While working at this trade he attended night school, and saved money enough to enable him to enter as a student at Georgetown College, D.C., in 1859, where he remained until the Civil War, in 1861, when he returned to Charleston and joined the state militia as a lieutenant of the Meagher Guards of the First Regiment, Carolina Rifle Militia. In 1862 he moved to Augusta, Georgia, and became one of the editorial staff of the daily "Constitutionalist", thus beginning a connection with the press of that city which extended over thirty-two years, and included service on the "Pacificator" (1864); "Banner of the South" (1867); and "Chronicle and Sentinel", which he purchased in 1877, combined with the "Constitutionalist", and retained until his death. In addition to his editorial work he was agent of the New York Associated Press, 1866-92, and general manager of the Southern Associated Press. He was a member of the state Legislature, 1872-74-76; delegate-at-large to the Democratic National Convention, 1884, and a member of the World's Columbian Fair Commission. To fill an unexpired term he was appointed by the governor, as a Democrat, a United States senator from Georgia, April 2, 1894, and then was elected to the same office by the Legislature, March 3, 1895.
THOMAS F. MEEHAN
---
Enjoying this content?
Please support our mission!
Donate