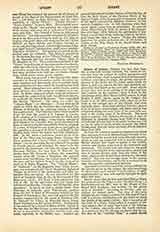 Click to enlarge
Lippomano, LUIGI or Aloisius LIPOMANUS, cardinal, hagiographer, b. in 1500; d. August 15, 1559. Of a noble Venetian family, he devoted himself from his youth to the study of the classical languages and later to the pursuit of the sacred sciences. Distinguished for his piety and integrity of character, he was among the first in Rome to join the "Oratorio della Carita" founded by St. Cajetan of Tiene, and composed of distinguished men, who in the Roman Curia were the leaven of Church reform, and afterwards took a prominent part in the Council of Trent. He was consecrated titular Bishop of Methone (1538), and appointed coadjutor to his uncle Pietro Lippomano, Bishop of Bergamo, who was also active in Catholic reform. "When Pietro was transferred to Verona (1544), Luigi accompanied him and succeeded him in that see in 1548, whence he was transferred to Bergamo in 1558. In 1542 Paul III sent him as nuncio to Portugal to announce the convocation of the Council of Trent, where he arrived in 1547 and was commissioned to present to the pope the reasons for transferring the council to Bologna. In 1548 he was sent with Bertano and Pighi to Germany. From 1551 he was one of the presidents of the council until its suspension (April 25, 1552); during that period the dogmatic decrees on the Eucharist, penance, and extreme unction were published, as well as several decrees on reform. In 1556 Paul IV sent him as nuncio to Poland, where, on account of his lively opposition to the pretensions of the Protestant nobility, his life was frequently threatened. After his return to Rome he remained in the Curia until his death. Amid his numerous official duties, he did not neglect his studies, which, however, he directed towards spiritual edification. Thus he wrote "Catenae in Genesin" (Paris, 1546), "In Exodum" (Paris, 1550), both works republished at Rome in 1557; "Confirmazione e stabilimento di tutti li dogmi cattolici… contro i novatori" (Venice, 1553). His chief work was "Sanctorum priscorum patrum vitae" (8 vols., Venice, 1551-60; 2 vols., Louvain, 1564), for which he engaged the services of many learned men, and himself, on his travels, searched libraries and archives. This collection gave a great impulse to scientific hagiography, and opened the way for Surius and the Bollandists.
U. BENIGNI
---
Enjoying this content?
Please support our mission!
Donate