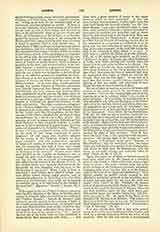 Click to enlarge
Liessies, a Benedictine monastery near Avesnes, in the Diocese of Cambrai, France (Nord), founded about the middle of eighth century and dedicated to St. Lambert. The monastery appears to have been destroyed twice in the wars of the ensuing centuries, and was only finally established about the year 1110 by Theodoric of Avesnes and his wife Ada. From this time its continued history is on record, but without any fullness of detail; a list of the abbots may be found in "Gallia Christiana". The chief glory of Liessies is the famous Louis de Blois, who became a monk there at the early age of fourteen. In 1530 he was made abbot and at once inaugurated his well known series of reforms, which were rendered necessary by the gradual decline from strict monastic observance (see Blosius). After the death of Abbot Blosius the next six abbots seem to have maintained the high state of observance inaugurated by him, but the forty-first abbot, Lambert Bouillon, was of a different type. He is said to have lived extravagantly, exhausted the monastery exchequer with lawsuits, and diverted the revenues to the advantage of his nephews and nieces. The illustrious Fesnelon, then Archbishop of Cambrai, accordingly held a visitation of the abbey in the year 1702 and left certain instructions of which the abbot circulated a largely fictitious account. The archbishop, however, having secured the changes he desired, refrained from any public disavowal of the abbot's declaration. After Abbot Bouillon's death in 1708 the existence of the monastery continued smoothly until the final suppression of religious houses in France. In 1791 the last abbot, Dom Mark Verdier, and his community signed a declaration, as ordered by the decree of October 14, 1790, in which they protested their earnest desire to remain in religion, but the suppression followed nevertheless. The property of the monastery was sold in 1791 and 1792 and the church pillaged and destroyed. The valuable paintings for which the abbey was famous, which included a series of "religious founders", were burned or dispersed, a few being still to be seen in neighboring churches.
G. ROGER HUDLESTON
---
Enjoying this content?
Please support our mission!
Donate