John Leslie
Bishop of Ross, Scotland, b. September 29, 1527; d. at Guirtenburg, near Brussels, May 30, 1596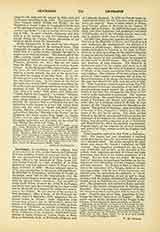 Click to enlarge
Leslie, JOHN, Bishop of Ross, Scotland, b. September 29, 1527; d. at Guirtenburg, near Brussels, May 30, 1596. He was of the ancient House of Leslie of Balquhain, but apparently illegitimate, as in July,1538, a dispensation was granted to him to take orders, notwithstanding this defect. He was educated first at Aberdeen University, and afterwards in France, studying at Poitiers, Toulouse, and Paris, and graduating as doctor of laws. Returning home, he became professor of canon law at Aberdeen, was ordained in1558, presented to the parsonage of Oyne, and appointed official of the diocese. We find him in 1560 named by the Lords of the Congregation to discuss points of faith at Edinburgh against Knox and Willock. In the following year he went to France to bring to Scotland the young Queen Mary, with whom he was associated during the years which followed. In 1565 she made him a member of her privy council, and in the same year, on the death of Henry Sinclair, he was nominated Bishop of Ross. He also held the office of judge, or lord of session, and was coeditor of the "Actis and Constitutiounis of the Realme of Scotland from the Reigne of James I", the work of a commission appointed by the queen, at his' suggestion, to revise and publish the laws of the kingdom. On Mary's escape from Lochleven in 1568, she was joined by Leslie, who never wavered in his fidelity to her cause; and he was her principal commissioner at the abortive conference with Queen Elizabeth's commissioners at York. For favoring the project of Mary's marriage with the Duke of Norfolk, he was imprisoned by Elizabeth, first at Ely, and then in the Tower of London. During his absence from Scotland he was deprived of the revenues of his bishopric and was reduced to great poverty. The iner prints an interesting letter addressed by him to the pope in 1580, showing the efforts he made, though absent from his diocese, to confirm those wavering in the faith, and recover those who had fallen away. Liberated in 1573, but banished from the country, he visited various European courts to plead the cause of his queen, and finally went to Rome. The Archbishop of Rouen appointed him his vicar-general in 1579. James VI restored the bishop, his mother's lifelong friend and champion, to his former dignities, but he never returned to Scotland. In letters he is principally remembered as the author of a Latin account of the history of Scotland, "De origine, moribus, ac rebus gestis Scotia) libridecem" (Rome, 1578), a Scottish version by Dom E. B. Cody, O.S.B. It comes down to 1571, and in its latter part presents a Catholic account of contemporary events.
D. O. HUNTER-BLAIR
---
Enjoying this content?
Please support our mission!
Donate