Lochleven
Lake in Kinrossshire, Scotland, was the seat of a religious community for seven hundred years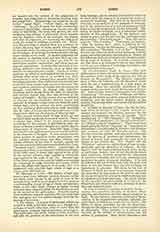 Click to enlarge
Lochleven (from leamhan, an elm-tree), a lake in Kinross-shire, Scotland, an island of which, known as St. Serf's Island (eighty acres in extent), was the seat of a religious community for seven hundred years. Brude, King of the Picts, is recorded to have given the island to the Culdees about 840, perhaps in the life-time of St. Serf (or Servanus) himself, and the grant was confirmed by subsequent kings and by several bishops of St. Andrews. In the tenth century the Culdee community made over their island to the bishop, on condition of their being provided by him with food and clothing. The Culdees continued to serve the monastery until the reign of David I, who about 1145 granted Lochleven to the Canons Regular of St. Andrews, whom he had founded there in the previous year. Bishop Robert of St. Andrews, himself a member of the order, took possession of the island, subjected the surviving Culdees to the canons, and added their possessions to the endowments of the priory at St. Andrews. An interesting list of the books belonging to the Culdees at the time of their incorporation with St. Andrews is preserved in the St. Andrews Register. From the middle of the twelfth century until the Reformation, Lochleven continued to be a cell dependent on St. Andrews. The most noted of the priors was Andrew Wyntoun, one of the fathers of Scottish history, who probably wrote his "Orygynale Cronykil of Scotland" on the island. Patrick Graham, first Archbishop of St. Andrews, died and was buried there in 1478. The property passed at the Dissolution to the Earl of Morton. A few fragments of the chapel remain, and have been used in recent times as a shelter for cattle.
D. O. HUNTER-BLAIR
---
Enjoying this content?
Please support our mission!
Donate