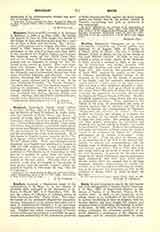 Click to enlarge
Bouillart, JACQUES, a Benedictine monk of the Congregation of St.-Maur, b. in the Diocese of Chartres, 1669; professed at the Monastery of St. Faron de Meaux 1687, d. December 11, 1726. He was the author of "Histoire de l'abbaye royale de Saint-Germain-des-Pres" (Paris, 1724). This valuable history of the celebrated Benedictine monastery contains biographies of the abbots that ruled over it since its foundation by Childeric I in 543 and many important historical events relative to the famous abbey. Bouillart also edited a martyrology of Usuard. In this publication he attempts to establish the genuineness and authenticity of the manuscript preserved at Saint-Germain-des-Pres, against the Jesuit hagiographer Du Sollier, who in his revised edition of Usuard's martyrology had paid no attention to this manuscript.
MICHAEL OTT
---
Enjoying this content?
Please support our mission!
Donate