Meaux
A Cistercian abbey about four miles east of Beverley in the East Riding of Yorkshire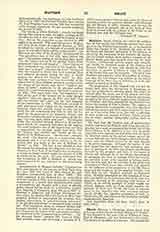 Click to enlarge
Meaux (MELSA), a Cistercian abbey about four miles east of Beverley in the East Riding of Yorkshire. It was founded in the year 1150 by William le Gros, Earl of Albemarle, and was dedicated to Our Lady. The history of the abbey is a sad one. On reading the chronicle compiled by Abbot Burton we see that the abbey was hardly ever free from litigation; three times the monks were forced to disperse through poverty; once, in the year 1349, four-fifths of the monks were carried off by the pestilence; and once by incurring the anger of a king they barely escaped dissolution. Richard Draper, the last abbot, signed the surrender of the abbey, and received a pension from Henry VIII.
PAUL BROOKFIELD
---
Enjoying this content?
Please support our mission!
Donate