Andrew Byrne
Bishop of Little Rock, Arkansas, b. at Navan, Co. Meath, Ireland, December 5, 1802; d. at Helena, Arkansas, June 10, 1862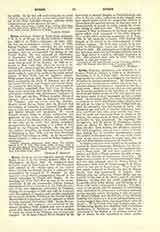 Click to enlarge
Byrne, ANDREW, Bishop of Little Rock, Arkansas, U.S.A., b. at Navan, Co. Meath, Ireland, December 5, 1802; d. at Helena, Arkansas, June 10, 1862. He was an ecclesiastical student when, in 1820, Bishop England sought volunteers for the mission of the newly created Diocese of Charleston (South Carolina), and he accompanied the bishop to the United States. He was ordained at Charleston, November 11, 1827, and after active missionary work in South and North Carolina was for several years vicar-general of the diocese. In 1836 he removed to New York City, where he served at St. Patrick's, St. James's and the church of the Nativity, and finally altered, in 1843, the famous Carroll Hall, which might be termed the cradle of the public school system of New York, into St. Andrew's church. While pastor there in 1844, the new Diocese of Little Rock, comprising the State of Arkansas and all of the Indian Territory, was created, and Father Byrne was named its first bishop. He was consecrated in St. Patrick's Cathedral, New York City, March 10, 1844, at the same time that the Rev. John McCloskey (afterwards Cardinal) was consecrated coadjutor of New York, and the Rev. William Quarter, Bishop of Chicago. There were then in Arkansas only about 700 Catholics, with one priest and two churches. Shortly before Bishop Byrne died, he claimed that the number of Catholics had increased largely, with nine or more priests eleven churches, thirty stations, and twelve schools and academies. He visited Ireland several times to obtain co-laborers and assistants in the cause of religion and education. He introduced the Sisters of Mercy from Dublin and at the time of his death had almost completed arrangements for the starting of a college at Fort Smith by the Christian Brothers. He was one of the prelates attending the Sixth Provincial Council of Baltimore in May, 1846, and the First Provincial Council of New Orleans in 1856. At the Second Baltimore Council, in 1833, he acted as Bishop England's theologian.
THOMAS F. MEEHAN
---
Enjoying this content?
Please support our mission!
Donate