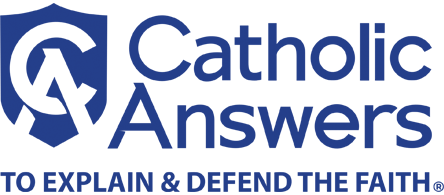 Question:
Why does the Catholic Church pronounce anathemas upon those who disagree with its teachings? This was done, for example, at the Council of Trent. Isn't it presumptuous of the Catholic Church to "damn to hell" someone who refuses to submit to its doctrines?
Answer:
The Catholic Church has no power to damn anyone to hell (that, of course, is each individual's unique prerogative – if you go to hell, you choose to go there), and the term anathema sit does not mean "let him be damned to hell," but "let him be cut off." There is a great difference.
First, let's examine the biblical meaning of the Greek word anathema. It literally means to be suspended, placed on high, or set aside. In the Bible the term is sometimes used in the positive sense of being to something which is dedicated to God.
For example, in Judith 16:23, "Judith dedicated as a votive offering [anathema] to God all the things of Holofernes that the people had given her, as well as the canopy that she herself had taken from his bedroom."
In an act of desperation as he saw God's wrath being kindled against him, the evil King Antiochus "vowed to the Lord, who would no longer have mercy on him, that he would set free the holy city, toward which he had been hurrying with the intention of leveling it to the ground and making it a common graveyard. . . [and that] he would adorn with the finest offerings [anathemata] the temple which he had previously despoiled" (2 Mc 9:13-14, 16). Luke describes the Temple as being, "adorned with costly stones and votive offerings [anathemata]" (Lk 21:5).
In other instances anathema is used in sense of being cursed or cut off. Paul says, "For I could wish that I myself were accursed and separated [anathema] from Christ for the sake of my brothers, my kin, according to the flesh" (Rom 9:3). He also warns us, "If anyone preaches to you a gospel other than the one that you received, let that one be accursed [anathema]!" (Gal 1:9, see also 1 Cor 16:22).
When the Catholic Church uses the term, such as at the Council of Trent and in its official documents, it is in the sense of excommunication or being cut off from the life-giving unity of the Church. If someone knowingly and publicly denies a defined (de fidei definita) doctrine of the Catholic Church, he can be formally declared to be excommunicated, meaning that he no longer enjoys unity with the Catholic Church.
That's why, for example, the Council of Trent said, "If anyone says that the sinner is justified by faith alone, meaning that nothing else is required to cooperate in order to obtain the grace of justification, and that it is not in any way necessary that he be prepared and disposed by the action of his own will, let him be anathema" (session VI, can. 9). This use of the term anathema has a very precise meaning: Let him be cut off from the Church, not let him be damned to hell. And this is done by the Church in her wisdom as a way of trying to bring the one in error to his senses – before it's too late and he is damned to hell by virtue of his obstinacy.
An anathema or excommunication is designed to remind the sinner of his eventual fate if he doesn't repent. That's why the Church is always ready to absolve and receive back the repentant sinner. That's why those who willingly disobey the Church's teachings may be anathematized – so that they will recognize the grave danger of such a course and be willing to return to the fold. And, of course, the Lord himself taught that excommunication is the Church's most severe method of dealing with members who sin grievously (heresy, schism, willingly procuring or helping someone to procure an abortion, illicitly ordaining bishops, and apostasy) when he said,
If your brother sins, go and tell him his fault between you and him alone. If he listens to you, you have won over your brother. If he does not listen, take one or two others along with you, so that "every fact may be established on the testimony of two or three witnesses" [Dt 19:15]. If he refuses to listen to them, tell the Church. If he refuses to listen even to the Church, then treat him as you would a Gentile o r a tax collector. Amen, I say to you, whatever you bind on earth shall be bound in heaven, and whatever you loose on earth shall be loosed in heaven. (Mt 18:15-18)
Paul expands on the theme of excommunication:
It is widely reported that there is immorality among you and immorality of a kind not found even among the pagans. . . The one who did this should be expelled from your midst. I, for my part, although absent in body but present in spirit, have already, as if present, pronounced judgment on the one who has committed this deed, in the name of our Lord Jesus: When you have gathered together and I am with you in spirit with the power of the Lord Jesus, you are to deliver this man to Satan for the destruction of his flesh, so that his spirit may be saved on the day of the Lord. . . Do you not know that a little yeast leavens all the dough? Clear out the old yeast, so that you may become a fresh batch of dough. . . . Purge the evil person from your midst. (1 Cor 5:1-7, 13)