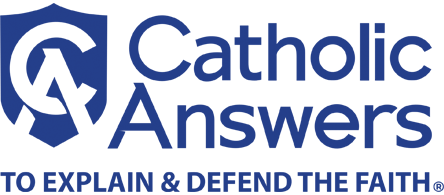 After almost seventeen years as the Catholic Answers chaplain, Fr. Vincent Serpa, O.P., has been given a new assignment in the Dominican Western Province. Beginning in July, Fr. Vincent will start his new job in the San Francisco Bay area.
"My time at Catholic Answers has been a very gratifying time for me and completely delightful," Fr. Serpa said. "It has been a unique assignment insofar as I have been able to completely devote myself to being a spiritual father without the added strain of administrative duties that often accompany pastoral assignments."
How did you come to be the chaplain at Catholic Answers?
One year, when I was the novice master, I brought my novices in for a tour of the apostolate, and while I was here, I was invited to be a guest on Catholic Answers Live. The visit left an impression on me, and I felt a desire to participate in the mission of the apostolate. My assignment as the novice master was coming to an end, and I knew my provincial would allow me to offer my services to Catholic Answers. I began at Catholic Answers in September 2000, working half-days saying Mass and answering questions via phone and mail (we didn't have the forums back then). After one year, Karl Keating invited me to join the staff full-time.
What is your favorite aspect of working at Catholic Answers?
The fact that I can reach an unlimited number of souls with a single answer on the Internet or the radio is one of the most gratifying aspects of the job. I know that even though my answer is directed to only one person, that answer could potentially reach thousands more souls who have the same question. It is incredibly satisfying to help people realize how much they are loved by the Lord.
What is the most challenging aspect?
Seeing people hurt, especially the staff members, and not being able to help them. I have been part of the most personal moments in the staff's lives—weddings, baptisms, and funerals— and I'm deeply affected when I see one of my flock hurting, especially since I see them every day, and I witness their daily struggles. With regards to my public ministry, the challenge comes when I can see the best course of healing, but I must be patient and allow individuals to discover the answer for themselves.
How difficult was it for you to be on the radio? How comfortable are you now?
For a long time I felt like I wasn't giving good guidance to the callers. But then I realized that what people needed most was the assurance that God loves them and that they were not as bad off as they imagined. Once I realized that, I became much more comfortable on the radio, because I didn't overthink my answers, I just let the Holy Spirit inspire me.
How important is Catholic Answers in today's society?
There is a great need for the apostolate's work in our culture. So many people are hurting, but they don't know the reason for their pain. The beauty of the radio and Internet is that they are non-committal—people can listen or read the answers on their own time when they are ready. They also give people a sense of anonymity so they are more comfortable being completely honest and vulnerable. Some of the most intimate things I've ever said have been through correspondence on the Internet.
Will you remain involved with Catholic Answers after your transfer?
Yes, I will still be on the radio every month, and I will continue to produce the "Catholic Answers Minute." In addition, folks will still be able to reach me through the website, Catholic.com.
What are your feelings regarding the new assignment?
There is definitely a mixture of sadness and excitement. This has been my longest assignment and I will miss the people here, but I'm excited with the prospect of moving to a place where I have never been before.