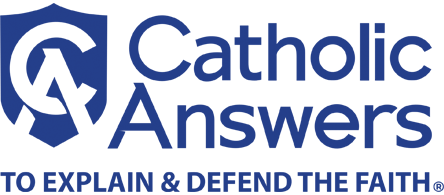 Our Catholic Answers chaplain has an answer for every problem. Fr. Serpa directs anyone in suffering, difficulty, or doubt to contemplate the cross: "See how much he loves you! That is the answer."
I know he is right: The cross is the only answer. At least I know it intellectually, and sometimes I think I am beginning to understand it in a deeper way, as Father does. But often when I look at Jesus on the cross, I think instead: "I put him there."
It was with such an attitude that I approached confession recently, not with Fr. Serpa but at the Saturday afternoon lineup. I knelt down and went through my usual laundry list. I could sense the priest smiling behind the screen. "My child," he said, "so often our approach to the sin in our lives is to try frantically to clean it up ourselves so that God will pat us on the head and tell us how well we've done. But he didn't die so that we could save ourselves. We must let him do it. So, I want you to pray every day—a dozen times a day, a hundred times a day: 'Lord, be the God of my life.'"
I have been trying to do that as part of my Lenten observance. I was helped by a little book which contains the Advent and Lent retreats preached for Pope Benedict XVI and the papal household. In it, the papal preacher quotes St. Teresa of Avila describing the time before her "second conversion":
I spent nearly 20 years on that stormy sea, often falling in this way and each time rising again, but to little purpose, as I would only fall once more. My life was so far from perfection that I took hardly any notice of venial sins; as to mortal sins, although afraid of them, I was not so much so as I ought to have been; for I did not keep free from the danger of falling into them. I can testify that this is one of the most grievous kinds of life which I think can be imagined, for I had neither any joy in God nor any pleasure in the world. When I was in the midst of worldly pleasures, I was distressed by the remembrance of what I owed to God; when I was with God, I grew restless because of worldly affections. (Remember Jesus Christ by Fr. Raniero Cantalamessa, O.F.M.Cap.)
How did her second conversion come about? How was this wise and holy woman moved from lukewarmness to fervor? From a spiritual life like mine to a spiritual life like what hers became? She saw a painting of the Crucifixion and:
So great was my distress when I thought how ill I had repaid him for those wounds that I felt as if my heart were breaking, and I threw myself down beside him, shedding floods of tears and begging him to give me strength once for all so that I might not offend him . . . I told him then that I would not rise from that spot until he had granted me what I was beseeching of him. And I feel sure that this did me good, for from that time onward I began to improve.
Contemplate the Passion. Beg God for help. Simple enough. Maybe this Lent I will begin to improve.