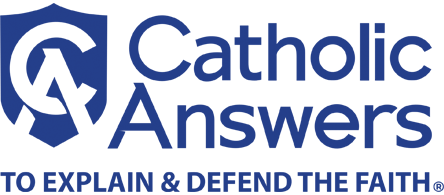 When I imagine heaven, I also imagine smiling saints—Aidan, Cuthbert, Columba, Patrick; an eighth-century Byzantine pilgrim to the Holy Land; John Henry Cardinal Newman. The Celtic saints and the pilgrim were Catholics in the undivided Church, while Cardinal Newman unexpectedly converted to Catholicism from Anglicanism.
The unexpected happened to me, too. Saints, circumstances, history, and my heritage—no doubt at God's instigation—united to bring me not only across the Atlantic, but the greater distance across the Tiber.
A Natural Christian
I was born in England, the son of a Baptist minister. My parents emigrated to America, where my father pastored churches in upstate New York and New Brunswick. My sister and I grew up with his excellent, Bible-based preaching, and I will forever be grateful to my parents for the loving Christian home they provided. My parents relate that my first profession of faith came at age 7 (and baptism at 10), but I cannot remember a time when I was not a believer. Being a Christian has always been natural.
We moved often, and though the flavor of the churches varied, all were Baptist. We had little contact with other denominations. The Catholic Church was rarely mentioned. If I ever thought of Catholics, it was as fellow Christians who had somehow gotten a little off-track, perhaps never having fully escaped the Middle Ages. Catholics weren't bad or evil, just poor souls who had to work unduly hard to earn their salvation and who were overly attached to Mary.
It was curious, then—and perhaps the first incidence of divine humor—when, after completing my first year at the University of New Brunswick, I transferred to Mount St. Mary's in Emmittsburg—a Catholic college!
Although I was a pre-med student, my course of study included several theology classes. My term papers reflected my Protestant viewpoint. One was returned covered in comments—"See me," "Ask me about this," "Talk to me." Even so, the tolerant priest gave me an "A." I think God was chuckling then, but the time wasn't right for me to consider the Catholic Church.
After graduating from the University of Maryland School of Medicine, I pursued residency training in West Virginia. I attended church when my schedule allowed, but my spiritual life languished. For two years I dated a Catholic nurse, but spiritual matters didn't really enter into our relationship.
I moved west to Montana. My father retired and became organist at a local Episcopal church. Fearing terminal boredom, I accepted his suggestion to experience liturgical worship and found to my surprise that liturgy touched something deep inside and connected me to generations of Christians past—particularly English ones.
Connections, Past and Present
Because of our frequent moves and unsettled existence, finding spiritual roots and my heritage became important. I loved traveling to England, worshiping in ancient cathedrals and parish churches where people had praised God for centuries.
About this time I embarked on my second vocation as a writer—medical topics, Christian articles, short stories, and novels. A shift from science fiction to historical fiction produced an interest in the Celtic and Roman eras, and I obtained a master's degree in Celtic Christianity from the University of Wales. I think it was another instance of divine humor that my second novel, Imperial Legions, was written by an Episcopalian and published by a Southern Baptist press whose senior editor was a messianic Jew who attended a Lutheran church!
More importantly, a beautiful veterinarian in Florida read one of my articles in a Christian magazine, and wrote to me. Correspondence led to long-distance dating, and finally marriage. Olivia's spiritual journey had been the opposite of mine—she'd grown up Lutheran before becoming Baptist. After our marriage, we continued to attend the Episcopal church, although Olivia found that the liturgy, rather than connecting her to God, separated her. Yet she too felt a deep connection to the past in Britain's old churches.
Episcopal Meltdown
And then the Episcopal church began to disintegrate. For years, the gospel of Christ that emphasized sin, the need for repentance, and redemption and transformation of life by Christ had been increasingly replaced by a message of "inclusivity" and "tolerance," which (since God didn't really care about trivialities such as sin, morality, and doctrine) meant accepting people as they were and leaving them there.
Dismayed by these trends, faithful clergy, parishes, and members began leaving for more conservative Anglican bodies, Orthodoxy, or Rome.
To me, the process exposed disturbing flaws in Anglicanism. Doctrinal pronouncements now rested with laity; the Bible was reinterpreted to suit current social trends; the traditions of the church were dismissed as relics of past cultures; erring bishops and clergy could go their own way without fear of discipline. There was no pope or magisterium to say "no."
The final nail in the coffin was learning that the Episcopal church belonged to the pro-abortion Religious Coalition for Reproductive Choice. What supposedly Christian church could support the murder of the unborn?
Since our parish was unwilling to take a stand, we decided to leave. We tried several different churches, but none seemed quite right. One Sunday we visited a Catholic church, expecting nothing but Mary worship. Instead, the Mass seemed quite Christ-centered.
Deep in History
We began to attend regularly, both at home and while traveling (Olivia particularly loved Notre Dame de Paris). We found the same Christ-centeredness. I read many conversion stories. I talked to a retired Episcopal bishop, a recent convert to the Catholic Church, to obtain the opinion of someone more theologically educated than I. Was the Catholic Church truly the Church Christ founded? His studies had convinced him so. Ronald Knox, Cardinal Newman, Cardinal Manning, and Robert Hugh Benson were theologically astute Anglicans who had reached the same conclusion.
Could God possibly be leading us to the Catholic Church? Although we felt a pull, the Tiber is a wide river to cross, and there was no family support—quite the opposite, resulting in some intense conversations and disagreement. It meant breaking away from my familial worship ties in search of a more personal faith.
In my wide studies I discovered that many of my impressions about Catholic faith and doctrine were wrong. I read books explaining the Catholic faith, the issues that divide Catholics and Protestants, the history of the Reformation, the Church Fathers, and the beliefs of the early Christians.
My reading drew me further into the past, and eventually to Cardinal Newman's comment that "to be deep in history is to cease to be Protestant." I began to feel a closer connection to the Body of Christ as it has existed across 2,000 years.
At the same time, I became aware of the wide divisions and contradictions that ravage the Protestant world. Every denomination claims to possess authority and truth, yet so many conflicting and varying opinions can't all be true. For example, baptism is a sacrament for Anglicans, an ordinance for Baptists, and dispensable for the Salvation Army. An Anglican may believe in a symbolic eucharist, a spiritual eucharist, or a Real Presence. Surely these are not matters for opinion. Is the Eucharist truly the body and blood of Christ? For it cannot both be and not be.
Olivia and I vacationed in England, where I acquired Frederick Cowles' 1933 book Dust of Years—Pilgrimages in Search of the Ancient Shrines of England. Cowles, a Catholic, lamented the Reformation mutilation of many holy sites. I saw these familiar places through different eyes. Of course, the ancient parish churches and great cathedrals I loved—Salisbury, Wells, Hereford—had been Catholic before they were Anglican, but this knowledge had registered only superficially. Anglican meant English. Could Catholic also mean English? And my favorite Celtic saints—Cuthbert, Aidan, Patrick, Columba—about whom I had co-authored a devotional, Walking With the Celtic Saints, had been Catholic, too!
The fact was that England had been Catholic long before she became Anglican. Despite wishful Anglican thinking, there was no autonomous Celtic church with direct continuity to the Anglican church formed at the Reformation. The Church in England—the ancient Church—had been Catholic from the start. Once again, I could almost hear God chuckling. Cardinal Newman, too.
In an antique store in Bath I purchased, and began to wear, an eighth-century bronze cross—one that a pilgrim to the Holy Land from Byzantium would have bought as a memento. Back home, I mentioned it to Catholic author Colleen Drippé, a longtime pen-pal. "Why don't you ask the pilgrim to pray for you?" she suggested. (Little did I know that she had been praying for years for me to become Catholic.) So I did—and I expect Colleen was amused at the thought of me unwittingly contributing to my conversion by invoking the pilgrim's intercession.
The Company of Friends
It was time. I met with Fr. Steve Tokarski of St. Pius X parish in Billings, who impressed me with his humility, demeanor, and ability to answer my questions. He introduced us to Karyn Haider, who cheerfully shepherded us through the RCIA program (Olivia, by God's grace, had been journeying along with me.) Their encouragement and friendship was an added blessing.
Instead of conflicting viewpoints we found a unified whole traceable back to the apostles, and a Church built not upon the opinions of a single man—like Luther or Calvin or any other denominational founder—but upon Christ and his first followers. We found a Church that stood for life and that had defended the faith for 2,000 years.
Of course, we encountered surprise and disbelief that we would want to join a Church with so many "errors" (as if Protestant denominations were somehow error-free). We explained that we were not renouncing our denominational upbringing (as though it had somehow become evil or harmful), but rather while remaining thankful for how God had used our prior traditions, were now building and expanding upon them. The process was one of growth, not replacement; of addition, not subtraction. One immediate result was a richer closeness in our marriage.
To be sure, the Catholic Church has blemishes and contains sinful, erring humans. But the Church is, certainly, the best place for sinners to be. What matters is that she is Christ's Church—and the Church of Francis of Assisi, the Celtic saints, Cardinal Newman, and numerous Anglican converts; fathers like Augustine, Aquinas, Ignatius; and of untold thinkers, heroes, martyrs, and holy men and women—among whom, no doubt, were some of my English forebears.
We joined the Catholic Church at the Easter Vigil in 2008. As we made our profession of faith and received confirmation, it was like entering the company of friends. I could almost hear Columba and Cuthbert and Aidan saying "Welcome home," and I thanked them for their help.
As we partook of the Eucharist for the very first time as Catholics, we felt a sense of joy and a commitment to growing closer to God and doing his will unlike any we had experienced before.
In the Catholic Church we have found a home, our heritage, and our ancestors in the faith—ancestors from all nations, as the Catholic Church is truly universal. Some of that great communion of saints—including my pilgrim friend—must be chuckling at how God brought us there. And God, being the good Englishman that he is—or at least having an English sense of humor—must surely be smiling too.