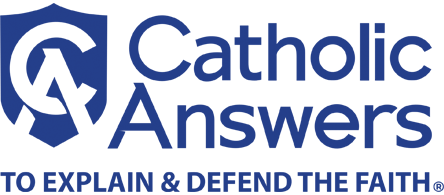 "What are you doing?" I asked myself as I parked on the campus of Aquinas College in downtown Nashville. "If anyone finds out you are even considering the Catholic Church, you will lose your job." But I had come too far to back out now, so I hurriedly went into the building. One of the Dominican sisters politely greeted me at the front desk and told me that my instructor had already arrived. Though I wore the black clericals of a priest, I was an Episcopal priest, and I felt tremendously out of place. Yet a strange sense of warmth came over me. Paintings of saints lined the hallway as if to encourage me as I made my way to meet Fr. Stephen Gideon. For the next hour I, along with two others, would ask questions and be instructed in the basics of the Catholic faith. That was in the spring of 2004. A winding path had brought me to that warm spring day.
"Fight the Good Fight"
I was raised in the Episcopal Church and the Christian faith was always part of my life. My earliest memories of church life center on serving as an acolyte in my home parish, something I enjoyed immensely. From a young age I had a strong interest in the spiritual life. My high school years were filled with the typical, mild rebellion of adolescence. By the second year of college I came to a deeper level of faith through an Evangelical conversion experience. I developed a love of Scripture and a desire to have the fullness of both Word and sacrament in my life. As an Episcopalian, I soon looked to the Evangelical wing of the Anglican church to meet this need. During my college years I also met my future wife, Sheryl, who had a similar background and life of faith.
Upon graduation from college, I was commissioned a second lieutenant in the U.S. Army and stationed at Ft. Campbell, Kentucky. Sheryl and I married and began attending the local Episcopal church, where we soon volunteered as youth ministers. It was an amazing time. However, we soon began to have a sense of discomfort in our relationship with the church. We began to realize that the heterodoxy within the Episcopal church was much more widespread than we thought. We observed, locally and nationally, a growing tendency toward a humanistic thought process within the Episcopal church that was very troubling. So we discussed our concerns with like-minded Episcopal priests and lay people. Their advice was to stay and "fight the good fight." Orthodox believers should stay put and be a witness to the gospel. This would be the prevailing mindset of many in the Episcopal church for at least another decade. But even then, it was clear a storm was coming.
While serving as a youth minister, I sensed a call to the Episcopal priesthood. After prayer, counsel from friends and family, and a walk through the Episcopal selection process, Sheryl and I packed up, and I entered seminary at Trinity Episcopal School for Ministry in Ambridge, Pennsylvania in the fall of 1999.
Who's Right?
My readings of Calvin, Luther, and Wesley left me with a nagging sense of discomfort. They and their followers seldom agreed on anything. How could the "Reformation" of the church produce so many different denominations and fractures? I saw how Bible Christians, myself included, argued incessantly about many facets of the faith—all of us quoting Scripture to support arguments. How were we to know who's right?
I discovered that the English Reformation in particular had little to do with theology and more to do with rejection of authority, quest for political gain, and Henry VIII's fulfillment of his sexual passions. How, too, can a church be controlled by a civil authority? Or, in the case of the Episcopal church in the U.S., how can a church be democratically governed? Will the Holy Spirit move when we achieve a majority vote? That produces a church enslaved to the spirit of the age. If the culture is Christian, then the church may remain Christian. But if the culture begins to shift to a post-Christian worldview, then this democratic type of church will as well.
In a liturgy class, I was asked to defend the doctrine of Memorialism (the belief that in communion, the bread and wine remain only bread and wine, and communion is nothing more than a meal in memory of Jesus' death and Resurrection). While preparing for this assignment, I studied textbooks and Scripture, particularly the passages of John 6 and 1 Corinthians 11. In so doing I discovered that my theology was much more Catholic than Evangelical. When it was time for me to present my paper, I had to clear my conscience. I began by saying (to the consternation of the professor), "As persuasive and as fair as I hope to be in presenting the doctrine of Memorialism, I do not agree with it. I believe the more Biblical and historical position to be that of the Real Presence of Christ in the Eucharist."
A Conflicted Conscience
After ordination, I was asked to start a new Episcopal church just outside of Nashville, Tennessee. I was excited (and intimidated) by the challenge. Soon after, the Episcopal church's National Convention made some distressing decisions. One was their inability to reaffirm the place and role of Scripture in the life of the church. Another was their failure to reaffirm the primacy and centrality of Jesus Christ. Then came the election and confirmation of Bishop V. Gene Robinson of New Hampshire, a practicing homosexual. With that, the Episcopal church was now endorsing sin as righteousness and as an example for the people of God. The church claimed, just as I had suspected, that because a majority had voted in favor of this, the "Spirit had spoken."
Sheryl and I both were troubled by all these things, but we wondered where to go. Everywhere we looked, we found similar types of spiritual malaise. We desperately wanted to remain within the church of our youth because we both believed in the value and efficacy of the sacramental life nourished by the Word of God in Scripture. Additionally, my responsibilities at our church had increased as the congregation had grown. However, by early 2004 I was beginning to notice a growing conflict in my conscience. As a minister I wanted to be faithful to the life to which God had called me, but I was becoming deeply troubled. I decided to make a retreat to pray about our future in the Episcopal church. Near Nashville is a wonderful Catholic retreat center, so I booked one of the hermitages nestled in the Tennessee hills.
I walked the gravel road from my hermitage to the chapel. With the familiar smell of incense in the air I knelt, rested, and prayed in front of the Blessed Sacrament. I pleaded with the Lord for strength and courage, but mostly for guidance. I didn't know what direction to take. It was dusk when I came out of the chapel and walked back up the hill to my hermitage. There were no grand revelations, no voices, or angels beside the altar. The only thing I sensed was a calm promise that he would indeed lead the way. It didn't feel like much, but I held on to it.
Later that night, I was preparing for bed when I noticed a book, supplied by the retreat center, tucked away near the back of a bookshelf. It was Mark Shea's By What Authority: An Evangelical Discovers The Catholic Tradition. I devoured it. With each chapter I was more and more captivated by what the author was telling me about the Catholic Church.
My Own Private Tarshish
After I left my retreat, I dove into more books, discovering authors like Scott Hahn, Peter Kreeft, Karl Keating, David Currie, and Leo Trese. Through the ministry of the Coming Home Network, I discovered others like me who were exploring the Catholic faith and finding treasures they had never before experienced. I began weekly meetings at Aquinas College with a small group exploring the Catholic Church. One by one my doctrinal objections faded. Mary, the saints, purgatory, the Mass, papal infallibility, and the Magisterium all made sense when properly understood. Archbishop Sheen was right when he noted that most people dislike the Catholic Church for what they think it is, not for what it is in reality!
The more I discovered, the more I realized that what I was seeing was going to demand a costly move in my life. It would mean leaving the Episcopal priesthood, my congregation (whom I dearly loved), the church of my youth, and a good many of my friends. So, in a move reminiscent of Jonah, I ran the other way. I went to my own Tarshish. I chose to retreat into the recesses of Anglo-Catholicism (a movement within Anglican–Episcopal circles that affirms Catholic tradition without being Catholic). I taught as close to Catholic doctrine as I dared; I quoted Catholic theologians in my sermons; I encouraged Catholic devotions among the people. I thought this was the way to walk on both sides of the street. I was wrong.
One day I was visiting a sick parishioner at a downtown hospital when an elderly lady stopped me. Looking at my black clericals, she asked, "Father, are you Catholic by chance?" I found myself so badly wanting to answer "yes," but I managed to stammer out, "N-No. I'm Episcopalian." I felt ashamed by my answer. I knew in my heart that I believed what the Catholic Church believed and taught. By not converting I was being disobedient. What was I doing in the Episcopal church? How could I continue running away?
So I contacted Fr. Gideon again and asked his forgiveness for my Jonah-like flight. He graciously welcomed me back, and we picked up where we had left off. I wrote the local bishop and told him I wanted to come home.
Sheryl was less sure about the move to the Catholic Church. I had kept so much of my thinking to myself that the idea of seriously considering Catholicism seemed sudden. Initially she was more inclined to worship in one of the Anglican offshoot churches or in the area of orthodox Anglo-Catholicism. But over time, she too explored the claims of the Catholic Church and began to see its splendor, its moral teaching, its solid commitment to truth, and its witness through the ages. She discovered saints who had given their lives for the faith. Through the guidance of another Episcopal convert, her questions and concerns were answered. For me it was an amazing transformation to witness. Her enthusiasm and love for the Church grew week by week, until she was truly eager for our reception.
At Home with God's Family
On May 20, 2007, our family came home to the Catholic Church. For us, it is the culmination of a great love story. Here we see what we profess in the Nicene Creed: The Church is one, holy, Catholic, and apostolic. For over 2000 years the gates of hell have not prevailed against her. Her saints continue to inspire and enlighten us. We know what it means to share and be in real Communion with others. Here Christ is truly present. We understand more fully, because we are more fully a part of Christ's Body, the Church—a fact which doesn't lead to pride, but humility. We have been made more aware of our sinfulness and our need for God's restorative forgiveness in our lives.
Some awkwardness remains. I still get some of the responses wrong at Mass, and Sheryl and I sometimes get lost in the missalette. And we can only hope our Latin improves. We're learning the language of the family and our way around our new home. But we are home because we found our family and the family of God found us.