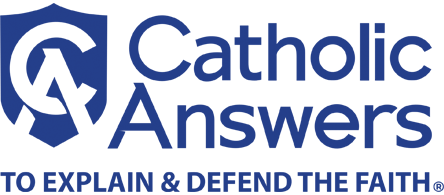 When Catholics and Protestants have discussions about what divides us, Protestants often pepper their Catholic friends with the question, "Where is that in the Bible?" But seldom do they stop to apply the standard of sola scriptura to their own beliefs. If they did, they would find that some of them don't come from the Bible at all but from a theological tradition they received from a parent or pastor.
Let's look at three examples of extrabiblical Protestant traditions.
Where does the Bible say we are not purified of sin after death?
The single most common question we receive at Catholic Answers is, "Where is purgatory in the Bible?" But Protestants who assume that Catholic doctrine about the afterlife should be spelled out explicitly in Scripture rarely apply this same standard to their own beliefs about life after death. The Protestant author William Edward Fudge writes:
While the Reformers talked about last things, they never did construct an eschatology using the building blocks of Scripture. . . . Luther and Calvin rejected the Roman Catholic doctrine of purgatory, for example, not because they made a thorough study of scriptural eschatology and found it missing, but because purgatory clearly contradicted the doctrine of justification that they had discovered in the Bible.[1]
Protestants typically believe that every Christian is united with Christ immediately after death, and therefore we will have no need for purification. But the passages they cite in defense of this claim, such as Philippians 1:23 ("My desire is to depart and be with Christ, for that is far better") and 2 Corinthians 5:8 ("We would rather be away from the body and at home with the Lord") do not stand up to scrutiny.
If I say, "When I am at work in the office, I am away from my family," that does not mean the moment I leave my office I will be home with my family (I might have to endure a long daily commute, for example). Likewise, a desire to be with Christ does not prove there will be no process of purification before we achieve that desire. In fact, 2 Corinthians 5:10 teaches that we can be apart from the body but not at home with the Lord: "We must all appear before the judgment seat of Christ, so that each one may receive good or evil, according to what he has done in the body."
Where does the Bible say we should make Jesus our personal Lord and Savior?
Protestants who object to the Mass or sacraments as unbiblical and unnecessary often say that all we need to do instead is accept Jesus as our Lord and Savior and confess our sins directly to God rather than to some priest.
Setting aside the fact that the Mass and the sacraments are biblical, I would point out the idea of basing one's faith around a personal relationship with Jesus is not. Concerning the popular "Sinner's Prayer" ("Dear Lord Jesus, I know I am a sinner, and I ask for your forgiveness. I trust and follow you as my Lord and Savior"), Protestant apologists Matt Slick and Tony Miano note, "There is not a single verse or passage in Scripture, whether in a narrative account or in prescriptive or descriptive texts, regarding the use of a 'Sinner's Prayer' in evangelism. Not one" [emphasis in original].
This doesn't mean it is wrong to ask Jesus to have a personal relationship with us. It just means that this foundational Protestant belief is not found in Scripture. The Bible also never instructs us to confess our sins to the resurrected Jesus, even though almost all Christians are comfortable doing that. So Protestants who adhere to sola scriptura should rethink their belief in these things—or rethink their belief in sola scriptura.
Protestants often cite 1 John 1:9 to defend confessing sins to God (and not to a priest), because it says, "If we confess [Greek, homologōmen; root homologeō] our sins, he is faithful and just, and will forgive our sins and cleanse us from all unrighteousness." But this passage doesn't say we should confess our sins to God alone. The context of the passage concerns what we say or confess to other people rather than what we communicate to God.
The previous verse, "If we say we have no sin, we deceive ourselves, and the truth is not in us," and the following verse, "If we say we have not sinned, we make him a liar, and his word is not in us," describe believers speaking to one another. In fact, aside from Hebrews 13:15, homologeō is never used to describe confessing anything to God. In John's writings, it is always used to describe confessing a belief to other men. In both the sacrament of confession and anointing of the sick, the priest does not directly forgives sin or heal, but rather he becomes the means by which God grants forgiveness or healing.
Most Protestants would agree with this thinking on something like baptism, since—like Catholics—they usually deny the validity of self-baptism. Those who believe in baptismal regeneration correctly point out that although God alone takes away sin, God does not act alone when he takes away a person's sins through baptism. Instead, God works through other believers who baptize on his behalf. The same principle applies when God uses a minister to forgive a person's sins through confession.
Where does the Bible say all revelation ceased after the apostolic age?
Protestants claim that the word of God is confined to what is recorded in Scripture and that no new revelation was given after the last books of the Bible were written. Catholics agree that public revelation, or the deposit of faith, ceased after the death of the last apostolic man (this includes the apostles and their associates like Mark and Luke). We disagree, however, with the idea that this truth can be known from Scripture alone. Protestants who are skeptical of Sacred Tradition should ask why they believe in the cessation of divine revelation, since Scripture does not explicitly address this issue.
Some have argued that this truth is described in Jude 3, which speaks of "the faith which was once for all delivered to the saints," but this verse on its own cannot support the claim that public revelation has ceased. Protestant apologist John MacArthur says that the Greek word translated "delivered" in this verse "refers to an act completed in the past with no continuing element." He also says the phrase "once for all" (Greek, hapax) means "nothing needs to be added to the faith that has been delivered 'once for all.'" This would mean that the "faith" had been delivered before Jude was written, which means Jude and its teaching about the cessation of public revelation would not have been a part of that original deposit of faith.
Arguments from Jude 3 also confuse "delivering the faith" with public revelation. Jesus gave "the faith" once and for all to the apostles, but the public revelation of that faith continued for decades after Jesus' interactions with them during the writing of the New Testament. There isn't any explicit biblical evidence that this revelation ceased after the death of the last apostle (or that it didn't continue for centuries rather than decades).
Catholics agree with Protestants that this public revelation did cease in the apostolic Church. The Catechism says that "no new public revelation is to be expected before the glorious manifestation of our Lord Jesus Christ" (66). But Catholics believe this truth based on the trustworthiness of the Magisterium, which preserves God's word in both its written (Scripture) and unwritten (Tradition) forms—not, as Protestants would have to believe, based on the clear teaching of the Bible alone.
So when Protestants ask, "Where is that in the Bible?", you might charitably ask in reply, "Where does the Bible say everything we believe as Christians must be found in the Bible?" Then you could offer to share with them some other common Protestant beliefs that have their roots not in Scripture but in traditions—both sacred and human.
---
[1] The Fire That Consumes: A Biblical and Historical Study of the Doctrine of Final Punishment, 13.