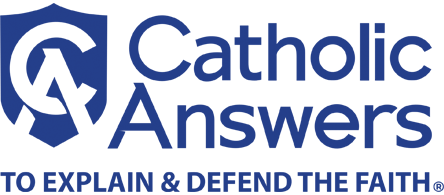 In my last post, I gave an abbreviated version of three of the eight reasons I give for Mary's perpetual virginity in my book, Behold Your Mother: A Biblical and Historical Defense of the Marian Doctrines. The com boxes lit up with questions so I thought I would provide three more abbreviated reasons in this post.
Reason Four: Mary was consecrated to the Father of her Son
As I said in my last post, Mary was also in a nuptial relationship with the Holy Spirit. The marriage between Mary and the Holy Spirit and that between Mary and Joseph are not incompatible, because they are of entirely different orders—like my own marriage to my wife, Valerie, does not contradict each of us having a truly nuptial relationship with the Lord.
However, unlike all Christians "nuptial" relationship with the Lord, in the case of Mary and the Holy Spirit, a child was conceived. "The Word was made flesh and dwelt among us" (John 1:14). In a unique and unrepeatable fashion, the two orders intersect. Thus, Mary's consecration to God for the purpose of the Incarnation brings with it biblical challenges.
In my last post, I mentioned how Joseph and Mary's betrothal to each other was equal to a legal spousal contract, according to Scripture. The word for betrothed in Hebrew is kiddush, which is derived from the Hebrew word kadash, meaning "holy" or "consecrated." This betrothal was considered a sacred event binding spouses to each other. It was because of this understanding of the sacredness of the bond of matrimony that adultery was considered such a serious sin. Marriage was a consecrated state. Desecrating this state by adultery left a woman defiled and was punishable by death or, in some circumstances, left her unfit to return to conjugal relations with her husband. (This seems odd to us today, but things were different among the ancient, tribal people with whom our Lord was dealing.)
The latter cases where a desecration of a marriage left women unfit to return to relations with their husbands are of particular interest to us now. We see an example of this in 2 Samuel. Absalom, one of David's sons, tried to usurp the throne of his father by, among other things, sleeping with ten of David's concubines:
Ahithophel said to Absalom, "Go in to your father's concubines, whom he has left to keep the house; and all Israel will hear that you have made yourself odious to your father, and the hands of all who are with you will be strengthened.". . . [A]nd Absalom went in to his father's concubines in the sight of all Israel (16:21-22).
Later, when Absolam's attempted coup d'état failed and he was killed, King David did not forget his concubines. Scripture tells us David "took the ten concubines, whom he had left to care for the house, and put them in a house under guard, and provided for them, but did not go in to them. So they were shut up until the day of their death, living as if in widowhood" (20:3).
David would not have conjugal relations with these ten concubines again because they were "defiled" by Absalom. But he did have the responsibility to care for them and protect them after Absalom's death, because he (Absalom) could no longer care for them. And they were David's concubines, so he had a real responsibility for their well being.
It is hard for us to fathom this in the twenty-first century. How could King David and St. Joseph have the responsibility to care for their wives but not be able to have conjugal relations with them? We have to understand this through the revelation given to us in the Old Testament. Deuteronomy 24:1-4 and Jeremiah 3:1 reveal to us that a woman who was divorced by her husband and then wedded to another could never return to her former husband even if her new husband were to die. Deuteronomy 24:4 declares:
Then her former husband, who sent her away, may not take her again to be his wife, after she has been defiled; for that is an abomination before the Lord, and you shall not bring guilt upon the land which the Lord your God gives you for an inheritance.
It was the sexual bond that was evidently the cause of the "defilement" in the relationship. Hence, King David could receive his concubines into his home after they were "defiled" by Absalom, but he could never have conjugal relations with them again.
In Jeremiah 3:1, God refers to this law when he speaks metaphorically of his relationship with Israel:
"If a man divorces his wife and she goes from him and becomes another's wife, will he return to her? Would not that land be greatly polluted? You have played the harlot with many lovers; and would you return to me?" says the Lord.
Very much rooted in this Old Testament understanding, the Talmud taught divorce to be mandatory in the case of an espoused woman who became pregnant by another. The espoused woman who conceived by another would then belong to that other and could never return to her former husband. The ancient rabbis said:
A woman made pregnant by a former husband and a woman who was giving suck to a child by another husband . . . do not receive the marriage contract. . . . A man should not marry a woman made pregnant by an earlier husband or giving suck to a child born to an earlier husband, and if she married under such conditions, he must put her away and never remarry her (Neusner, Babylonian Talmud, vol. 11, 123).
When we take into account the Old Testament background and ancient Hebrew culture, we understand Matthew 1 and the situation with the Holy Family. In Joseph's mind, once she was pregnant, Mary would have belonged to the father of the child within her. His choices were either to expose her publicly and endanger her to mob violence or to do what we see he actually resolved to do in Matthew 1:19: divorce her quietly. But notice what Scripture tells us in verses 20 and 21:
But as [Joseph] considered this, behold, an angel of the Lord appeared to him in a dream, saying, "Joseph, son of David, do not fear to take Mary your wife, for that which is conceived in her is of the Holy Spirit."
When the angel told Joseph that Mary's child was conceived of the Holy Spirit, he knew what was required of him. Just as we saw with King David in 2 Samuel 20:3, Joseph knew that he was to take his wife into his home and care for her, though he could never have conjugal relations with her. According to Scripture and ancient Jewish tradition, Mary belonged to the father of her child—the Holy Spirit. However, the Holy Spirit could not be the protector that Mary needed. The Holy Spirit could not sign legal documents and be Mary's legal spouse. But Joseph was ready and willing—just man that he was—to care for Mary as his lawfully wedded spouse.
Reason Five: Mary is the Temple gate
In Ezekiel 44:1-2, the prophet was given a vision of the holiness of "the gate" of the temple, which would be fulfilled in the perpetual virginity of Mary:
Then he brought me back to the outer gate of the sanctuary, which faces east; and it was shut. And he said to me, "This gate shall remain shut; it shall not be opened, and no one shall enter by it; for the Lord, the God of Israel has entered by it; therefore it shall remain shut."
No Christian would deny that in the New Testament Jesus is revealed to be the fulfillment of the temple. In John 2:19, when Jesus said, "Destroy this temple and in three days I will raise it up," the Jews thought he was speaking of the enormous stone edifice that stood in Jerusalem. But, as John tells us two verses later, he was actually speaking of his own body. So if Christ is the prophetic temple of Ezekiel 44 into which God himself has entered for our salvation, who or what is this prophetic gate that is the conduit for God to enter into his temple?
Mary is the natural fulfillment. She is the gate through which not just a spiritual presence of God has passed but God in the flesh. How much more would the New Testament gate remain forever closed? St. Jerome commented on this text in the fourth century:
Only Christ opened the closed doors of the virginal womb, which continued to remain closed, however. This is the closed eastern gate, through which only the high priest may enter and exit and which nevertheless is always closed (Against the Pelagians, 2,4).
Reason Six: Mary is the untouchable Ark
According to multiple parallel texts in Scripture, Mary is depicted as the New Testament Ark of the Covenant. The encounter of Mary and Elizabeth in Luke 1:39-45, shortly after Mary conceived Jesus at the Annunciation, is clear evidence of this.
First, take note of Elizabeth's exclamation when Mary entered her home and greeted her: "And why is this granted to me, that the mother of my Lord should come to me?" This refers back to 2 Samuel 6:9 where the Old Testament "type" of Mary—the Ark of the Covenant—was carried into the presence of King David. He said, "How can the ark of the Lord come to me?" The ark remained there three months. In a New Testament fulfillment of the type, Luke 1 records that Elizabeth gave Mary an identical greeting, and that Mary remained with Elizabeth for three months.
According to Hebrews 9:4, the Ark of the Covenant bore the Ten Commandments, a small amount of manna, and the staff of Aaron the high priest. All of these were types of our Lord. According to John 6:31-33, Jesus is the true manna. According to Hebrews 3:1, Jesus is our true high priest. In Hebrew, the Ten Commandments can be referred to as the ten words (dabar in Hebrew). Jesus is the word made flesh, according to John 1:14.
According to the Old Testament, no one except the high priest could touch the ark or even look inside it. If anyone else touched or looked inside the ark, the punishment was death. The Levites in charge of the ark knew all too well that their charge was to protect but that they could not look inside and they could not touch.
If this was the case for the Old Testament type, which, according to Hebrews 10:1, is no more than a shadow of the true New Testament fulfillment, then it would seem fitting that Mary would remain "untouched" by Joseph as well. When we understand this, we understand why great saints such as Jerome and Epiphanius would have been so indignant when they encountered the first heretics to posit even the possibility that Joseph could have had conjugal relations with Mary. This was absolutely foreign to the Christian consciousness of the first four centuries of the Christian era.
Perhaps in a future post, I will discuss the unanimity among the Fathers of the Church on this matter. For the first Christians, this was a no-brainer.
If you enjoyed this and you would like to learn more, click here.