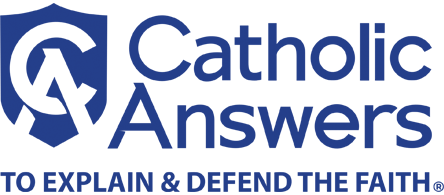 Jesus Puts Mary in Her Place
Why does Jesus seem to publicly minimize Mary's holiness, and even her maternity?
There are two moments in the Gospels in which Jesus appears to downplay Mary's importance in front of a crowd. One of them, from yesterday's Gospel reading, is from Matthew 12:46-50. While Jesus is teaching, Mary and others of Jesus' "brethren" show up and ask to speak to him. "But he replied to the man who told him, 'Who is my mother, and who are my brethren?' And stretching out his hand toward his disciples, he said, 'Here are my mother and my brethren! For whoever does the will of my Father in heaven is my brother, and sister, and mother.'" On another instance, recounted in Luke 11:27-28, "a woman in the crowd raised her voice and said to him, 'Blessed is the womb that bore you, and the breasts that you sucked!' But he said, 'Blessed rather are those who hear the word of God and keep it!'"
So what is going on here? Why does Jesus seem to be taking the opportunity to publicly minimize Mary's holiness and even her maternity?
The answer is that there's more here than meets the eye. Think about Luke 18:18-19, in which a ruler refers to Jesus as "Good Teacher," and he replies, "Why do you call me good? No one is good but God alone." On the surface, Jesus seems to be denying his own divinity and goodness. But on closer inspection, he's actually doing the opposite. Something similar is happening here: although Jesus at first seems to be knocking Mary down, his actual teaching shows Mary's importance.
To see why this is, it's important to remember the context. The first words from the mouth of Jesus in the Gospel of Mark are "the time is fulfilled, and the kingdom of God is at hand; repent, and believe in the gospel" (Mark 1:15). This theme of Christ's "kingdom" is recurrent throughout his teaching. Those listening to Jesus would naturally think of King David, the greatest king in Israel's history. And sure enough, we find Jesus heralded as
"Jesus, Son of David" (Luke 18:38). After all, God had promised David that a descendant of his would "build a house for my name, and I will establish the throne of his kingdom for ever" (2 Sam. 7:13). With Jesus, we find this everlasting kingdom brought into history.
But the thing about an earthly dynasty, even the House of David, is that it's built upon ties of blood and marriage, not upon the prospective king's qualifications. And so, although David was a great (but imperfect) ruler, his son and successor "Solomon did what was evil in the sight of the Lord, and did not wholly follow the Lord, as David his father had done" (1 Kings 11:6). The Davidic line goes dramatically downhill from here until you have kings like Ahaz of Judah, who built idols to the pagan Baals and then "burned his sons as an offering" to them, "according to the abominable practices of the nations whom the Lord drove out before the people of Israel" (2 Chron. 28:2-3).
Jesus' point in both Matthew 11 and Luke 12 isn't to knock Mary down a peg. It's to hammer home that, although Jesus is the fulfillment of God's promise to the House of David, the kingdom of God isn't going to go the way that Israel and Judah's royal house went. Membership in this new dynasty is based not upon blood or marriage, but upon faith, so that "to all who received him, who believed in his name, he gave power to become children of God" (John 1:12). That's the point Jesus is making in Matthew 12: we are all invited into Jesus' family, through faith. Slowly, Jesus' followers will realize that this "all" includes even Samaritans and Gentiles, and that this new house "shall be called a house of prayer for all peoples" (Isa. 56:7).
But what does this mean about the role of Mary? Think back to Luke 11:27-28. The woman in the crowd was thinking along bloodlines when she cried out, "Blessed is the womb that bore you, and the breasts that you sucked!" And so Jesus responds, "Blessed rather are those who hear the word of God and keep it!" In saying that, it might sound as though he were saying, "Mary is not blessed," but that can't be right. Elizabeth, filled with the Holy Spirit, had earlier proclaimed, "Blessed are you among women, and blessed is the fruit of your womb!" (Luke 1:42). So Mary is blessed as the Mother of God. But the point here is that her blessedness isn't because of bloodlines. Rather, it's because of faith, which is why Elizabeth continued, "Blessed is she who believed that there would be a fulfilment of what was spoken to her from the Lord."
And so Mary has a true maternity—not merely along bloodlines, but even more importantly, in faith. Part of what it means to enter the family of Jesus is that Mary becomes our mother, too, even though we're non-relatives. Hanging upon the cross on Good Friday, "Jesus saw his mother, and the disciple whom he loved standing near, he said to his mother, 'Woman, behold, your son!' Then he said to the disciple, 'Behold, your mother!' And from that hour the disciple took her to his own home" (John 19:26-27). This is more than simply ensuring that Mary has someone to look after her. Jesus is telling Mary to now think of the Beloved Disciple as her son, and for him to think of her as his mother . . . even though John's biological mother is right there at Calvary (Matt. 27:56). Lest we think this was true only of the Beloved Disciple, and not of all beloved disciples, Revelation 12 depicts the Queen of Heaven as the mother of Jesus (Rev. 12:5) and says that "her offspring" are "those who keep the commandments of God and bear testimony to Jesus" (v. 17).
So it's true that, in one sense, Jesus is putting Mary "in her place" in Matthew 12 and Luke 11. It just happens that her "place" is as his mother in faith, and as the mother of Christians. "Blessed is she who believed"!