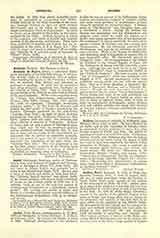 Click to enlarge
Andre, YVES MARIE, mathematician, b. May 22, 1675, at Chateaulin, in Lower Brittany; d. at Caen, February 25, 1764. He entered the Society of Jesus in 1693. Although distinguished in his scholastic studies, he was, on account of his Gallicanism, Cartesianism, and Jansenism, assigned to scientific studies and made royal professor of mathematics at Caen where he remained for thirty-nine years. A literary essay on "The Beautiful" won him great fame, and is considered a classic. During his lifetime the Society was suppressed, and the philosophical and religious errors which he could not express as a Jesuit were openly espoused when he was secularized. He condemned his former associates for their action against Cardinal de Noailles, and was a strong anti-Ultramontane. He was intimately associated with Malebranche, and kept up an extensive correspondence with him. While in the Society his Gallicanism and Jansenism made it impossible to appoint him to any responsible office. He obstinately refused to change his views. On the suppression of the Society he withdrew to the Canons Regular of Caen, and the Parliament of Rouen provided him with a pension. Although his best work by far is his "Essay on the Beautiful", there is considerable ability in his "Traite de l'homme". He wrote a poem on the "Art of Conversation", which was translated into English in 1777. Several posthumous works were published, among which was one with the curious title, "Man as a Static Machine; a Hydraulic Machine; a Pneumatic Machine; and a Chemical Machine". Though the work was never found, it is pretty certain that he wrote a "Life of Malebranche". Victor Cousin had much to do with publishing the posthumous letters of Father Andre, to whom we owe as many as eighteen works, some of them in folio, on metaphysics, hydrography, optics, physics, civil and military architecture, along with treatises on literary subjects, sermons, catechetical instructions, etc.
T. J. CAMPBELL
---
Enjoying this content?
Please support our mission!
Donate