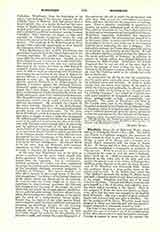 Click to enlarge
Windsor, a town of great antiquity, on the Thames, in Berkshire, England; quaintly rendered Ventus Morbid us in some medieval documents, the name being really from the Saxon Windels-or, "winding shore", The manor was granted by Edward the Confessor to the Abbey of Westminster, and the town became a free borough under Edward I. The population is about 14,000. The chief interest of Windsor lies in the castle, one of the most famous royal residences in the world. There was a palace and strong-hold here in the time of the Saxon Heptarchy, and the great mound on which stands the Round Tower (itself rebuilt by Edward III) is of this date. The castle, which was extensively added to by Henry III, has been for centuries the favorite residence of English kings, many of whom, including Edward III and Henry VI, were born there. A chapel existed in the castle from early times; but the present sumptuous Chapel of St. George, considered the finest example of perpendicular architecture in England, was built by Edward IV, who was buried in it, as were several of his successors. St. Edward's (now the Albert Memorial) Chapel was the burial place of Cardinal Wolsey, who constructed a magnificent tomb for himself. This chapel was used for Catholic worship in the reign of James II, who received the papal nuncio there in 1687. Under George IV nearly a million sterling, was spent on altering and practically rebuilding the castle, according to the plans of Wyatville. Many royal marriages have taken place during the last century in St. George's Chapel, which is a richly-endowed royal peculiar, served by a dean, a college of canons and minor clerics, and a staff of highly—trained choristers. The chapel is the headquarters of the Knights of the Garter (established by Edward III), for whom a special prayer is said at every service held within its walls.
D. O. HUNTER-BLAIR
---
Enjoying this content?
Please support our mission!
Donate