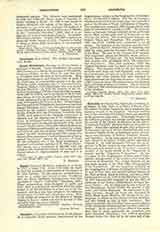 Click to enlarge
Casanare, Vicariate Apostolic of, in the Republic of Colombia, South America, administered by the Augustinians, subject to the Congregation of Extraordinary Ecclesiastical Affairs. The city of Casanare, situated on the river of the same name, was formerly a part of the Diocese of Tunja (Archdiocese of Bogota). The vicariate was created in 1893, though efforts were made in this direction as early as 1884. Its territory forms an immense triangle bounded on the northeast by the Meta, on the northwest by Venezuela, on the west by the Andes. The conterminous dioceses are Bogota, Tunja, and Pamplona. The population in 1893 was about 110,000 souls, ministered to by 10 priests. The territory of the vicariate coincides with the political district (Intendencia) of Casanare and takes its name from the Casanare River, an affluent of the Meta. The seat of the vicariate is at Tamara; other important places are Nunchia, Tame, Arauca, Orocue, Moreno, Trinidad, etc. Its first missionaries were Jesuits; who established there 126 reductions (see Paraguay). After their expulsion (1767) the original barbarism took the place of civilization and religion. The churches built by the first Jesuit missionaries were large and well furnished; even today local merchants and private individuals exhibit candlesticks and other objects that once belonged to these abandoned and despoiled churches. At present (1907) there are about 30 missionaries in the territory and 3 convents of Sisters of Charity. The revolutions of 1895 and 1899 interfered seriously with the progress of the missions.
U. BENIGNI
---
Enjoying this content?
Please support our mission!
Donate