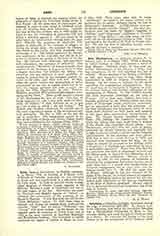 Click to enlarge
Arne, THOMAS AUGUSTINE, an English composer, b. March 12, 1710, at London; d. March 5, 1778. Although of Catholic parentage, he was educated at Eton, and was apprenticed in a solicitor's office for three years. In 1740 he married Cecilia Young, oldest daughter of Charles Young, organist of All Hallows, Barking, a pupil of Geminiani and one of the best singers of her day. Arne wrote the music for Thomson and Mallet's masque of "Alfred", to celebrate the anniversary of the accession of the House of Hanover. It is in this work the well known "Rule Britannia" occurs. In 1742 Arne went to Ireland, and during his sojourn there produced his oratorio "Abel" and his operas "Britannia" and "Comus" with great success. On his return, he was engaged again as composer at Drury Lane, and in 1745, in the same capacity at Vauxhall, Ranelagh, and Marylebone Gardens. The University of Oxford conferred the degree of Doctor of Music on Arne, July 6, 1759. Three years after this, he wrote "Artaxerxes", an opera in the Italian manner, with recitative but no spoken dialogue, taking the text of Metastasio's "Artaserse". In 1764, Doctor Arne produced his second oratorio," Judith". His later productions were the music for Mason's tragedies of "Elfrida" and "Caractacus", additions to Purcell's music for "King Arthur", and some music for Garrick's ode for the Shakespeare Jubilee in 1769. Arne was buried in the Church of St. Paul, in Covent Garden. He was the first to introduce female voices into the choruses of oratorios.
JOHN J. A' BECKET
---
Enjoying this content?
Please support our mission!
Donate