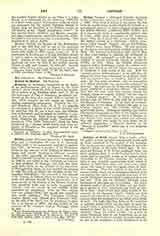 Click to enlarge
Arthur, THOMAS, a celebrated Catholic physician of the seventeenth century, b. at Limerick, 1593; d. c. 1666. Very little is known of his career, the few facts on record being chiefly related by himself in a genealogical account in Latin elegiacs, preserved in the British Museum (Additional MSS. 31,885), and in a manuscript diary of considerable interest, also in Latin, which gives particulars of his numerous cases. This diary shows him to have been held in the highest esteem as a physician. Arthur sometimes called himself Thomas Arthur FitzWilliam, his father's name being William. He was educated at Bordeaux and subsequently studied medicine in Paris. He returned to Ireland in 1619, and in May of that year started to practice his profession in Limerick. He succeeded so well that on the invitation of various influential people he settled in Dublin, in 1624. When the English physicians failed to relieve Archbishop Ussher of a serious complaint from which he suffered Arthur was summoned to Drogheda to take charge of the case. With the "pseudo-primas Ardmachanus", as he calls him, he stayed for some time subsequent to March 22, 1625, and accompanied him to Lambay Island for the cure. He was most successful, and his reputation as a skillful physician was enormously enhanced by this case. He received a fee of fifty-one pounds, then justly considered a munificent reward. He himself says that the cure made him famous among the English, whom he heartily disliked "for the sake of the Catholic religion". In his diary he mentions another case for which he was paid ten pounds by the Marquis of Ormonde. In his diary he occasionally alludes to the affairs of Ireland but only in the briefest possible way. His Catholic feelings are everywhere shown. Among his patients was Charles Fleetwood, Commander-in-Chief of the English forces in Ireland, at whose request he wrote a treatise on the disease from which that soldier was suffering. The only writer who seems to have made use of Arthur's manuscript is Maurice Lenihan in his "History of Limenck", where one or two epigrams are quoted.
D. J. O'DONOGHUE
---
Enjoying this content?
Please support our mission!
Donate