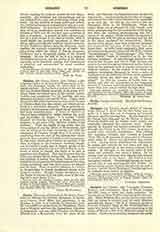 Click to enlarge
Coelde, THEODORE (THEODORE OF MUNSTER; THEODORE OF OSNABRUCK; DERICK, DEDERICK, or DIETERICH, COLDE), Friar Minor and missionary, b. at Munster, in 1435; d. at Louvain, December 11, 1515. He was a different person from the Dominican, Theodore of Munster, and from the Augustinian, Theodore of Osnabruck; and was called Theodore von Munster (Theodoricus a Monasterio) from the place of his birth; and Theodore von Osnabruck from his father's native town. Coelde made his first studies at Cologne, and entered the Order of the Hermits of St. Augustine at an early age. In 1454 he was received into the Franciscan Order in the Netherlands. When the plague broke out at Brussels in 1489, Coelde went about administering the last sacraments to the dying; and when the sacristan accompanying him fell a victim to the plague, Coelde attached the lantern to his girdle, and, with the pyx in one hand and the bell in the other, continued his ministrations. Before the end of the plague, more than thirty-two thousand had received the last rites of the Church from the heroic friar. In 1470 Coelde composed a brief, popular treatise on the truths of the Catholic Faith, entitled "Kerstenspiegel" or "Christenspiegel" (The Christian's Mirror), which is considered to be the first German catechism. It went through thirty-two editions in Low German and two in High German, and came to be used throughout Germany and the Netherlands as the principal work of popular instruction in religious matters. At the request of his friend and admirer, Archbishop Hermann, he wrote a series of meditations on the sufferings of Christ, which appeared probably about the same time as the "Christenspiegel". In 1618 the remains of Coelde were exhumed, and, after the suppression of the Franciscan convent at Louvain, were transferred to Saint-Trond, where they now repose behind the high altar.
STEPHEN M. DONOVAN
---
Enjoying this content?
Please support our mission!
Donate