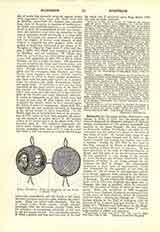 Click to enlarge
Bulstrode, SIR RICHARD, soldier, diplomatist, and author, b. 1610; d. 1711, was the second son of Edward Bulstrode by Margaret, daughter of Richard Astley, chamberlain of the queen's household and member of the Inner Temple. He was educated at Pembroke College, Cambridge, and while at the university was the author of a poem on the birth of the Duke of York. At twenty-three years of age he entered the Inner Temple and in 1649, at his father's request and through his interest, was made a bencher. During the Civil War he was loyal to the king, serving in the Prince of Wales's regiment and holding at times the post of adjutant. He was later promoted to the rank of Adjutant-General of Horse, and still later to be Quartermaster-General. He was appointed to take charge of the funeral of Lord Strafford and became responsible for the expenses attending it; on being pressed by his creditors he fled to Bruges. He subsequently underwent a short term of imprisonment, which was terminated by the payment of the debt by Charles II. On his return he was appointed auditor of a Scotch regiment then serving in the Netherlands and in 1673 was appointed agent at the Court of Brussels. He was temporarily recalled two years later, and in 1675 was knighted and again sent to Brussels, this time as resident, where he remained until the accession of James II when he was made envoy. When the revolution of 1688 compelled James to leave England, Bulstrode accompanied him to the court of Saint-Germain, where he remained until his death. Among his writings are: "Original Letters written to the Earl of Arlington, with an account of the Author's Life and Family", "Life of James II", "Memoirs and Reflections on the Reign and Government of Charles I and Charles II" and a large number of elegies and epigrams.
THOMAS GAFFNEY TAAFFE
---
Enjoying this content?
Please support our mission!
Donate