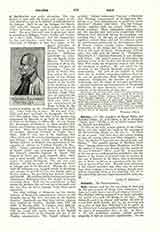 Click to enlarge
Salt, always used for the seasoning of food and for the preservation of things from corruption, had from very early days a sacred and religious character. The Prophet Eliseus employed it to make palatable the waters of a well (IV Kings, ii, 19 sqq.). The Orientals used it to cleanse and harden the skin of a new-born child (Ezech., xvi, 4); by strewing salt on a piece of land they dedicated it to the gods; in the Jewish Law it was prescribed for the sacrifices and the loaves of proposition (Lev., ii, 13). In Matt., v, 13, salt symbolizes wisdom, though perhaps originally it had an exorcistic signification. Its use in the Church belongs exclusively to the Roman Rite. The Ritual knows two kinds of salt for liturgical purposes, the baptismal salt and the blessed salt. The former, cleansed and sanctified by special exorcisms and prayers, is given to the catechumen before entering church for baptism. According to the fifth canon of the Third Council of Carthage it would seem that salt was administered to the catechumens several times a year. This use of salt is attested by St. Augustine (Conf., I. 1, c. xi) and by John the Deacon. St. Isidore of Seville speaks of it (De off., II, xxi), but in the Spanish Church it was not universal. The other salt is exorcized and blessed in the preparation of holy water for the Asperges before high Mass on Sunday and for the use of the faithful in their homes. The present formula of blessing is taken from the Gregorian Sacramentary (P.L. LXXVIII, 231). Both baptismal salt and blessed salt may be used again without a new benediction. The appendix of the Roman Ritual has a blessing of salt for the use of animals and another in honor of St. Hubert. The Roman Pontifical orders salt to be blessed and mixed in the water (mixed in turn with ashes and wine) for the consecration of a church. This is also from the Gregorian Sacramentary. Again salt (not specially blessed) may be used for purifying the fingers after sacred unctions.
FRANCIS MERSHMAN
---
Enjoying this content?
Please support our mission!
Donate