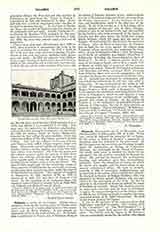 Click to enlarge
Salamis, a titular see in Cyprus. Salamis was a maritime town on the eastern coast of Cyprus, situated at the end of a fertile plain between two mountains, near the River Pediaeus. It was already an important center in the sixth century B.C. Its foundation is attributed to Teucer, son of Telamon, King of the Island of Salamis, opposite Attica; others believe it to be of Phoenician origin and derive its name from the Semitic selom, peace. Its fine harbor, its location, and fortifications made it the chief city of the island. In the sixth century B.C. it had kings, allies of the princes of Cyrene; one of them, Gorgus, refused to join in the Ionian revolt, and was expelled by his brother, who took command of the troops of Salamis and the other cities; the battle was fought before Salamis, which fell again into the power of Gorgus. It was besieged by Anexicrates, the successor of Cimon. After the Peace of Antacidas, the Persians had to fight for ten years against the valiant king Evagoras, whose panegyric was composed by Isocrates. It was at Salamis in 306 B.C. that the greatest naval battle of antiquity was fought, Demetrius I, Poliorcetes, defeating the Graeco-Egyptian fleet of Ptolemy I. In 295 B.C. Salamis passed under the sway of the kings of Egypt, and in 58 B.C. under that of Rome, at which time it possessed all the eastern portion of the island. When St. Paul landed at Salamis with Barnabas and John, surnamed Mark, returning from Seleucia, there were several synagogues, and it was there he began the conversion of the island (Acts, xiii, 5). Salamis was destroyed by earthquakes, and was rebuilt by Constantius II (337-61), who called it Constantia. It was destroyed by the Arabs in 647 or 648. Its unimportant ruins are near the village of Hagios Sergios, a little north of Famagusta. After its destruction the inhabitants and clergy betook themselves to Famagusta, which became and for a long time remained the residence of the archbishops. At present they reside at Nicosia. In the article on Cyprus (q.v.) are mentioned the principal bishops of Salamis or Constantia; the list of these prelates is given in Le Quien, "Oriens christianus", II, 1043 seq., and more fully in Hackett, "A History of the Orthodox Church of Cyprus" (London, 1901), 651.
S. PÉTRIDÈS
---
Enjoying this content?
Please support our mission!
Donate