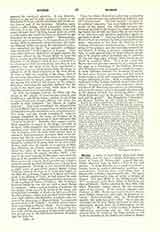 Click to enlarge
Richer, a monk of Saint-Remi (flourished about 980-1000), was the son of a knight belonging to the Court of Louis IV d'Outre-Mer (reigned 936-54). Richer inherited from his father a love of war and politics. At Saint-Remi he was a pupil of Gerbert's; besides Latin he studied philosophy, medicine, and mathematics. Nothing more than these facts is known with certainty concerning his life. The great Gerbert commissioned him to write a history of France. The only MSS. of his "Historiarum libri IV" was discovered by Pertz (1833) at Bamberg and then published. Richer selected the date 882, with which Hincmar's annals closed, for the starting-point of his history. In his work he depends upon Flodoard (d. 966). In his eagerness for rhetorical ornament Richer frequently loses sight of historical accuracy. Notwithstanding this, in Wattenbach's opinion, the work has great value: "he is our sole informant for the very important period in which the sovereignty passed from the Carlovingians to the Capetians". He gives a large amount of important information concerning this era. His statements concern both the events of the larger history as well as of the destinies of his church and school at Reims; we receive also welcome information relating to various matters regarding the history of culture. In politics he defended the rights of the Carlovingians. King Henry I of Germany was to him only the King of Saxony. In ecclesiastical matters Richer held to the views of his master Gerbert. Richer is the first writer to give clear expression to the conception of a French nationality.
FRANZ KAMPERS
---
Enjoying this content?
Please support our mission!
Donate