Ramon de La Cruz
A poet, b. at Madrid, Spain, March 28, 1731; d. in the same city, November 4, 1795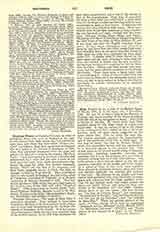 Click to enlarge
Cruz, RAMON DE LA, a poet, b. at Madrid, Spain, March 28, 1731; d. in the same city, November 4, 1795. He was for a time a clerk in the Ministry of Finance, and was a member of the Royal Academy of Seville and of the Arcadians of Rome. Very little is known of his life. He wrote more than three hundred pieces for the stage, many of which were improvised. It was his custom to go to the Prado in the evening and there, seated on one of the stone benches, work out some theme suggested by the scene before him. This he wrote the next day. The theatre anxiously awaited the improvisation, and it was produced within two or three days. In this way he wrote "La Casa de Tocame Roque", which won immediate favor, and has continued to be a favorite almost to the present day. Cruz at first wrote in the several known styles of dramatic composition, including tragedies, zarzuelas, and comedies, but it is as the inventor of a new form of dramatic writing that he is best remembered. This is the sainete, a short farcical sketch of city life and manners, especially of the middle and lower classes. As a writer of these he has never been equaled. They abound in exuberant humor, jokes, and puns, and describe faithfully the customs and manners of the time. His pictures of the middle and lower classes were produced with such exactness, vivacity, grace, and coloring, that for these qualities rather than for any literary merit they might possess his plays won public favor, and many of them continued to be presented with but slight changes, almost down to our own times. His best sainetes are "La Casa de Tocame Roque", just mentioned, "El Prado por la Noche", "Las Tertulias de Madrid, o el Por que de las Tertulias", and "La Comedia de Maravillas". There are several editions of the works of Cruz, among which may be mentioned "Ramon de la Cruz, Sainetes" (I vol., Madrid, 1877), "La Biblioteca Universal" (XXXV), and "Teatro selecto de don Ramon de la Cruz" (I vol., Madrid, 1882).
VENTURA FUENTES
---
Enjoying this content?
Please support our mission!
Donate