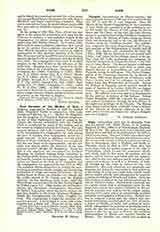 Click to enlarge
Poor Servants of the Mother of God, a religious congregation founded in 1808 by Mother Mary Magdalen Taylor in conjunction with Lady Georgiana Fullerton (q.v.). Mother M. Magdalen was the daughter of a Church of England clergyman. As one of Miss Nightingale's band of nurses in the Crimea she became acquainted with the Catholic Faith as manifested by many of the soldiers, and on her return to England entered the Church. Her subsequent intimacy with Lady Georgiana Fullerton led to the foundation of a congregation for work among the poor of London, then inadequately served by a single convent. At first an affiliation with the Little Sisters of Mary (Archduchy of Posen) was considered, but this was found to be impracticable, and the new order was placed under the direction of its own superior general (Mother M. Magdalen). From the first it was approved and encouraged by Cardinal Manning, its spiritual training being committed to the Fathers of the Society of Jesus, near whose church in Farm St., London, its existence began. Its Constitutions are based on the Rule of St. Augustine, and the congregation was approved by Leo XIII in 1885. The members devote themselves to visiting the poor, teaching in parochial schools, nursing, and conducting institutions of refuge and rescue for women. To the mother-house in Rome are attached two schools and the public church of St. George and the English Martyrs. In this church on Good Friday, 1887, the Three Hours was preached for the first time in English by Father Lucas, S.J. Other houses are in Florence; London (2); Brentford; Roehampton; Streatham; St. Helen's, Lancashire, where the sisters conduct the only free hospital in the town; Liverpool; Brighton; Dublin (2); Carrightowhill, Co. Cork; Youghal, Co. Cork. The congregation is under the direction of a superior general. A black habit is worn, with a blue scapular and a black veil. There are no lay sisters.
BLANCHE M. KELLY
---
Enjoying this content?
Please support our mission!
Donate