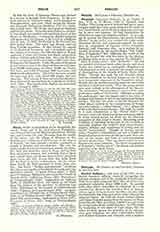 Click to enlarge
Perge, titular metropolitan see in Pamphylia Secunda. Perge, one of the chief cities of Pamphylia, was situated between the Rivers Catarrhactes (Duden sou) and Cestrus (Ak sou), 60 stadia from the mouth of the latter; now the village of Murtana on the Suridjik sou, a tributary of the Cestrus, in the vilayet of Koniah. Its ruins include a theatre, a palaestra, a temple of Artemis, and two churches. The very famous temple of Artemis was located outside the town. Sts. Paul and Barnabas came to Perge during their first missionary journey, but probably stayed there only a short time, and do not seem to have preached there (Acts, xiii, 13); it was there that John Mark left St. Paul to return to Jerusalem. On his return from Pisidia St. Paul preached at Perge (Acts, xiv, 24). The Greek "Notitiae episcopatuum" mentions the city as metropolis of Pamphylia Secunda until the thirteenth century. Le Quien (Oriens christ., I, 1013) gives 11 bishops: Epidaurus, present at the Council of Ancyra (314); Callicles at Nicaea (325); Berenianus, at Constantinople (426); Epiphanius at Ephesus (449), at Chalcedon (451), and signer of the letter from the bishops of the province to Emperor Leo (458); Hilarianus, at the Council of Constantinople (536); Eulogius, at Constantinople (553); Apergius, condemned as a Monothelite at Constantinople (680); John, at the Trullan Council (692); Sisinnius Pastillas about 754, an Iconoclast, condemned at Nicaea (787); Constans, at Nicaea (787); John at Constantinople (869).
---
Enjoying this content?
Please support our mission!
Donate