Pectorius of Autun
The name with which the important document frequently known as the Inscription of Autun concludes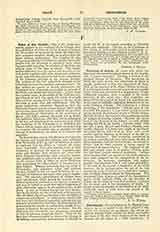 Click to enlarge
Pectorius of Autun, the name with which the important document frequently known as the Inscription of Autun concludes. Nothing is known of the personal history of Pectorius. The inscription in which his name occurs, the authorship of which is usually attributed to him, was discovered, June 24, 1839, in the cemetery of St. Pierre l'Estrier at Autun. It is written in Greek metre and engraved on a marble tablet which was recovered in a fragmentary, though sufficiently complete, state to permit of the reconstruction of the entire text. The fragments are preserved in the museum of Autun and constitute one of the most remarkable epigraphic monuments of the early Christian Church. The following is a literal rendering of the inscription: "Divine race of the heavenly fish preserve a pure heart having received among mortals the immortal source of Divine waters. Refresh, O friend, thy soul with the everflowing waters of treasure-bestowing wisdom. Receive the sweet food of the Savior of the Saints, eat with delight holding the fish in thy hands. Nourish (thine) with the fish, I pray, Master and Savior; Sweetly may mother slumber, I beseech thee, Light of the Dead. Ascandios father, beloved of my heart with sweet mother and my brothers in the peace of the fish remember Pectorius". The inscription considered in its content naturally falls into three parts, the first of which addresses itself to the Christians, the second to Christ, and the third contains a loving appeal to Pectorius's deceased relatives. The language of the first part stands alone in its purity, whereas parts two and three contain traces of decadence. Various dates ranging from the second to the sixth centuries have been assigned for the composition of the inscription. Its language, symbolism, and palaeographic characteristics refer it with great probability to the end of the second or beginning of the third century. In its interpretation the use of the fish among the early Christians as a symbolical designation of Christ Himself should be remembered. The document bears witness to some of the fundamental truths of the Catholic Faith, viz. the Divinity of Christ, the doctrines of transubstantiation, of prayer for the dead, and of the communion of saints. It clearly states the manner of distribution of the Holy Eucharist which in early times was placed in the hands of the recipient.
N. A. WEBER
---
Enjoying this content?
Please support our mission!
Donate