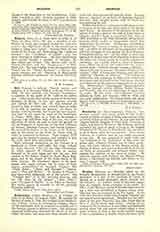 Click to enlarge
Bril, PAULUS, a brilliant Flemish painter and engraver, b. at Antwerp, 1556; d. in Rome, October 7, 1626. He first studied with Damiaen Oertelmans, a member of the guild of St. Luke in his native city. Fired by the news of the success of his brother Matthys, in Rome, he left his parents secretly and started for that city. He was detained at Lyons by lack of funds, and worked there in order to be able to continue his journey. At Rome he studied with his brother, but found his best inspiration later in the copies he made of the landscapes of Titian. With these as a basis he developed a vigorous and individual style of his own, the manifestations of which are said to have led greatly to the development of landscape art by their influence on Rubens, Annibale Carracci, and Claude Lorraine. He assisted his brother in his works at the Vatican, and on the death of the latter (b. about 1548, d. 1584) he continued his labors. Pope Gregory XIII gave him his brother's pension, and confided to him the work which they had jointly undertaken.
Bril's principal production in the Vatican is a landscape in fresco sixty-eight feet long, ordered by Pope Clement VIII for the Sala Clementina, in which appears St. Clement, with an anchor fastened to his neck, being cast into the sea. Bril worked in the Sistine Chapel, in Santa Maria Maggiore, and in the chapel of the Scala Santa in St. John Lateran. He introduced figures in his landscapes with much success, but in some of them appear compositions of Annibale Carracci. His "Duck Hunt", "Diana and Nymphs", "Fisher-men", "Pan and Syrinx", "St. Jerome in Prayer", and three other landscapes are in the Louvre. His "Prodigal Son" is in the Antwerp Museum, and his "St. Paul in the Desert", "Boar Hunt", and "Triumph of Psyche" in the Uffizi at Florence. His works appear in number in all the principal European galleries.
AUGUSTUS VAN CLEEF
---
Enjoying this content?
Please support our mission!
Donate