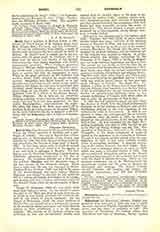 Click to enlarge
Bokenham (or BOKENAM), OSBERN, English Augustinian friar and poet, b. 1393 (the year in which the most famous of English Augustinians, John Cap-grave, was also born); d. probably, in 1447. The assertion of Horstmann, his German editor, that Bokenham was born at Bookham, Surrey, appears to be contradicted by the friar's own statement that his birthplace was in the vicinity of a "pryory of blake [black] canons" which Mr. Sydney Lee (Dict. Nat. Biogr., V, 314) identifies with a famous house of Augustinian canons at Bokenham, now Old Buckenham, Norfolk. Bokenham may or may not have got some early schooling from these "blake canons", but he certainly spent five years as a young man in Italy, chiefly at Venice, making frequent pilgrimages to the great Italian centers of devotional life, Rome, of course, among them. His long residence in Italy, in a generation to which the memory of Petrarch (d. 1374) was still recent, must have been in itself something of a liberal education. Bokenham is known to have read both Cicero and Ovid—classical accomplishments not by any means a matter-of-course with young Englishmen destined to the ecclesiastical state in those days. Lydgate (d. 1451?) was among his contemporaries; Gower (d. 1402) and Chaucer (d. 1400) had been living in England in his boyhood, and had demonstrated the splendid possibilities of a language which for more than three centuries had been a mere rustic vernacular. His admission to the Order of Hermit-Friars of St. Augustine, whatever the exact date, certainly fell within the period of that order's greatest intellectual activity in England, when Dr. John Lowe (d., Bishop of Rochester, 1436) was making such valuable additions to the great Austin-Friars library in London. Bockenham finally became a professed religious in the Augustinian convent at Stoke Clare, Suffolk.
His writings were chiefly religious in theme and feeling. A "Dialogue" (printed in vol. VI of Dugdale's "Monasticon"), on the genealogy of a great Suffolk family, is attributed to Bokenham on internal evidence. The "Lyvys of Seyntys" he compiled chiefly from the "Legenda Aurea" of Jacobus a Voragine. These are the lives of twelve female saints, with an account of the legendary "11,000 virgins". Though valuable in a devotional sense, the "Lyvys of Seyntys" cannot be very seriously considered by modern hagiologists; but as illustrating the evolution of English literature, their historical value is inestimable. The language, described by its author as "of Suthfolke speche", is forced into the exotic form of ottava rima. This work, preserved among the Arundel MSS. in the British Museum, was printed for the Roxburghe Club in 1835; but Horstmann's edition (vol. I of Kolbing's "Altenglische Bibliothek") had appeared at Heilbronn two years earlier. Bokenham's ideas of religious humility are curiously illustrated by his using the names of several contemporary ladies of high rank as noms de plume to cover his own authorship.
E. MACPHERSON
---
Enjoying this content?
Please support our mission!
Donate