Nicholas Heath
Archbishop of York; b. in London, 1501 (?); d. in the Tower of London, December, 1578 (not 1579, as generally stated)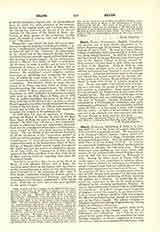 Click to enlarge
Heath, NICHOLAS, Archbishop of York; b. in London, 1501 (?); d. in the Tower of London, December, 1578 (not 1579, as generally stated). He was educated at St. Anthony's School, London, Corpus Christi College, Oxford, and Christ's College, Cambridge, where he became Fellow in 1521. After his ordination he became Vicar of Hever, Surrey (1531-2). In 1534 he was appointed Archdeacon of Stafford, and he took his doctorate in divinity the following year. Having discharged some diplomatic and court duties with success, he was schismatically elected Bishop of Rochester in 1539, but was translated to Worcester in 1543. During the latter years of Henry VIII he would appear to have temporized in religious affairs, but in 1550 he showed his orthodoxy by refusing to accept Cranmer's new form for ordination and was in consequence imprisoned and deprived of his see. On the accession of Mary he was restored to his diocese, and in 1555, having been absolved by the pope from schism, he was elected Archbishop of York, receiving the pallium on October 3. As archbishop he procured the restitution to the see of much property alienated by his reforming predecessor, Holgate. It was he who consecrated Cardinal Pole as Archbishop of Canterbury. In 1556 he became Lord Chancellor of England, and in this capacity he proclaimed Elizabeth as queen on Mary's death in 1558, but resigned his office on the following day, though he retained his seat on the Privy Council. His solemn warnings to Elizabeth against attempting religious changes having failed, he refused to crown her.
In Parliament he resisted the queen's claim to be styled "Governor of the Church", also the Acts of Supremacy and Uniformity. On July 7 he was deprived by the queen of his see, and continued for some months, sometimes at liberty, sometimes in durance. On June 10, 1560, he was committed to the Tower, with the option of obtaining liberty if he would attend the new services. This he refused and continued in the Tower till 1571 except for two years, from September, 1563, to 1565, when he was transferred to the keeping of a Protestant dignitary, probably the Dean of Westminster, and occasional intervals when he was allowed to live in the house of Lord Montague at Southwark. Burghley's misrepresentations to the effect that the archbishop after his deprivation was not imprisoned but lived in ease enjoying the queen's favor, though contradicted by his own letters to the Lieutenant of the Tower and the records of the Privy Council, have been repeated by all subsequent Anglican writers from Camden and Strype to the writer in the "Dictionary of National Biography". But all Catholic contemporary evidence shows the falsehood of this account. From 1571 he was indeed allowed to reside at his own estate of Chobham Park, in Surrey, though he is not mentioned as continuing there in any document later than 1574, and there is reason to believe that he was again committed to the Tower about that time. It is certain that by May, 1578, he was again in strict confinement, and a letter by Viscount Montague to Sir William More dated December 12 in the same year announced his death as having just occurred.
EDWIN BURTON
---
Enjoying this content?
Please support our mission!
Donate