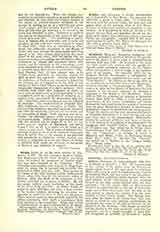 Click to enlarge
Attaliates, MICHAEL, Byzantine statesman and historian, probably a native of Attalia in Pamphylia, whence he seems to have come to Constantinople between 1130 and 1140. He acquired in the royal city both wealth and position and was rapidly advanced, under successive emperors, to the highest offices, among others to that of judge of the supreme court of the empire. He compiled (1072) for the Emperor Michael Parapinakes a compendium of Byzantine law which supplements in a useful way the "Libri Basilici". In addition to this he also drew up an "Ordinance for the Poor House and Monastery" which he founded at Constantinople in 1077. This work is of value for the history of Byzantine life and manners in the eleventh century. It contains a catalogue of the library of his monastery. About 1079 or 1080 he published an account of Byzantine history from 1034 to 1079, a vivid and reliable presentation of the palace revolutions and female domination that characterize this period of transition from the great Macedonian dynasty to the Comneni. Attaliates writes as an eyewitness and contemporary. Though his style is not free from the usual affectations of Byzantine historians, it is more flowing and compact than that of his predecessors. Krumbacher praises his accurate judgment and sense of equity; in both respects he is superior to his continuator, the panegyrist and courtier Psellos. The law-manual of Attaliates was first edited by M. Freher (Juris Grieco-Romani Tomi Duo, Frankfort, 1596, II, 1-79); the "Ordinance", or Didrattr, is found in Miklosich and Muller, "Acta et Diplomata Gra ca Medii Aevi" (1887), V, 293-327; the "History" was edited by I. Bekker, in the "Corpus Script. Byz." (Bonn, 1853).
THOMAS J. SHEEHAN
---
Enjoying this content?
Please support our mission!
Donate