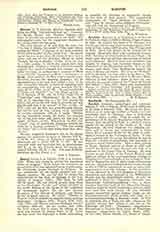 Click to enlarge
Bandello, MATTEO, b. at Castelnuovo di Scrivia in Piedmont, Italy, in 1480; d. Bishop of Agen, France, in 1565. He entered the Order of St. Dominic; but his life and writings bear slight trace of a religious character (3 Vols. Lyons, 1554 passim; Vol. IV appeared in 1573). He is best known by his Novelle, 214 in number. These tales show very considerable literary skill. But they are of no credit to the churchman. In many cases they are perverse descriptions of horrors and wickedness. Many of them were translated into English by Painter, and furnished themes to the dramatists of the Elizabethan period. It is by this means, most likely, that Shakespeare learned the story of Romeo and Juliet. The story of "Parisina" told by Bandello was later taken up by Byron. The best edition of the Novelle is that of Silvestri, Milan, 1813-14, in nine volumes. Some of them are contained in the second volume of the "Tesoro dei Novellieri Italiani", Paris, 1847. Some were translated by Roscoe, in "Italian Novelists", III, (London, 1825).
W.S. REILLY
---
Enjoying this content?
Please support our mission!
Donate