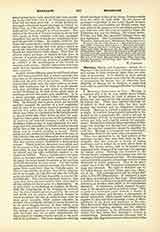 Click to enlarge
Marquette League, a society founded in New York, in May, 1904, by Rev. H. G. Ganss, of Lancaster, Pa., with a directorate of twenty-five members chosen at first from the councils of the St. Vincent de Paul Society, as a layman's movement to cooperate with the ecclesiastical authorities in helping to preserve the Faith among the Catholic Indians of the United States and convert those still living in paganism; to assist in the support of the mission schools; to supply funds for establishing new missions, building chapels and maintaining trained catechists; and to endeavor in every legitimate way to improve the condition, spiritual and material, of the American Indian. During the first six years of the League's existence (to 1910) it established mission chapels at Holy Rosary and St. Francis missions, South Dakota; for the Moquis Indians of Northern Arizona; for the Winnebagoes of Nebraska; and two chapels on the Fort Berthold Reservation, North Dakota. Several catechists were kept in the mission field, and many gifts of clothing and money were sent each year to the mission schools and almost daily offerings for Masses to the missionary priests, together with vestments and chalices for the different chapels built by the League. The League works in harmony with the Bureau of Catholic Indian Missions, Washington, and its work extends into almost every state in the union. The League is governed by a president and a board of directors, consisting of twenty-five men of New York and Brooklyn, membership in a St. Vincent de Paul Society being no longer a necessary qualification. The principal office is in New York, with organizations in Brooklyn, Washington, Philadelphia, and Worcester.
THOMAS F. MEEHAN
---
Enjoying this content?
Please support our mission!
Donate