Juan Azor
Professor of philosophy and later of theology, both dogmatic and moral (1535-1559)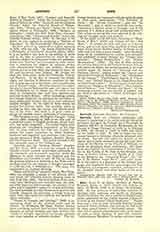 Click to enlarge
Azor, JUAN, b. at Lorca, province of Murcia, Southern Spain, in 1535; entered the Society of Jesus, March 18, 1559; d. in Rome, February 19, 1603. He was professor of philosophy and later of theology, both dogmatic and moral, at Piacenza, Alcala, and Rome, and was a member of the first committee appointed by the Father General Acquaviva to draw up the famous "Ratio Studiorum". Father Azor was a man of wide and solid learning, deeply versed in Greek, Hebrew, and history, as well as in his more special branch of theological science. His chief title to general remembrance rests on his classical work on moral theology, in three folio volumes: "Institutionum Moralium, in quibus universe qustiones ad conscientiam recte aut grave factorum pertinentes breviter tractantur pars lme", the first volume of which appeared at Rome in 1600, the second six years later, and the last in 1611. The work met with flattering success in Rome and at all the Continental seats of learning, and was honored by a special Brief of Clement VIII. Numerous editions were brought out at Brescia, Venice, Lyons, Cologne, Ingolstadt, Paris, Cremona, and Rome. The work continued to hold its lofty position during the succeeding centuries, was strongly recommended by Bossuet in his synodal statutes, and was held in highest regard by that master in moral theology, St. Alphonsus Liguori. Gury speaks of Father Azor as "a moderate Probabiliorist, in wisdom, in depth of learning and in gravity of judgment taking deservedly high rank among theologians". There are extant in MS. other works by Father Azor; in Rome, in the Jesuit archives, a commentary on the Canticle of Canticles; at Würzburg, an exposition of the Psalms, and at Alcala several theological treatises on parts of the "Summa" of St. Thomas.
ARTHUR J. MCCAFFRAY
---
Enjoying this content?
Please support our mission!
Donate